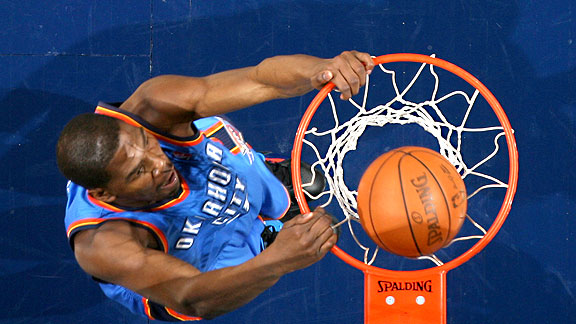 Joe Murphy/NBAE/Getty Images
No one finished more efficiently at the rim last season than Kevin Durant.
Hoopdata has something incredibly useful, which is data about who shoots well from different spots on the floor. For instance, you can look up Kevin Durant, and then see how he finishes at the rim, from three to nine feet, from ten to fifteen feet, from fifteen to 23 feet, and from 3-point land.
That can quickly get interesting. If you looked up that particular thing, for instance, you'd notice that Durant made 217 of his 281 attempts at the rim last season, for a mighty 77 percent. That seems high, right? How high?
Hoopdata's Joe Treutlein was nice enough to create a list of the league's best finishers at the rim last season. All kinds of interesting things emerged:
Durant, as you can see in the table, leads the league, just ahead of the mighty Dwight Howard, who has almost as good a percentage with nearly twice as many makes.

Marcin Gortat, once he started playing with Steve Nash, shot up to 74.3 percent.

Conversely, Jeff Green, before joining the Celtics, was a wonderful 74.4 percent at the rim, but in Boston fell to 60.8 percent.

I have a ton of respect for every medium- to small-sized player on this list, especially unathletic ones like Paul Pierce and Andre Miller. They know the tricks.

Very few players had more than 300 makes at the rim and made the top 50 in field goal percentage. Among them: Dwight Howard, Blake Griffin (both over 400), Dwyane Wade, LeBron James, LaMarcus Aldridge, Nene and the impressive Thaddeus Young. Tony Parker, Zach Randolph, Amare Stoudemire, Russell Westbrook and Derrick Rose had more than 300 makes, but not the field goal percentage to qualify.

Some players I thought might make this list, but fell just short: Kobe Bryant, Andrew Bogut, Manu Ginobili, Luis Scola, Rajon Rondo, Brook Lopez, DeMarcus Cousins, Joakim Noah, Kevin Love, John Wall and Tyreke Evans.

Would be great to add true shooting percentage, or some measure of fouls drawn and free throws made, to this analysis.
Winning at the rim
According to Hoopdata, these are the players who scored best at the rim in the 2010-2011 season. They are ranked by field goal percentage, with minimums of 20 games played, and three attempts at the rim per game.