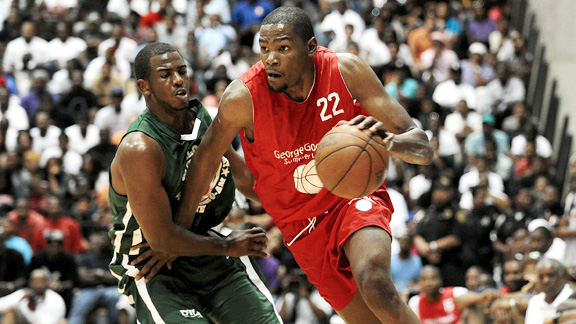 Patrick Smith/Getty Images Sport
A night in Baltimore to blow minds.
There is really no argument that Kevin Durant has been the world's best summer basketball player for two straight years. Earlier this week he capped that run with 59 points in a close loss to a team stacked with LeBron James, Chris Paul, Carmelo Anthony and others. People who were there swear these 59 were more meaningful than you're regular big-total-in-a-meaningless-game. John Converse Townsend of Truth About It, a D.C.-based TrueHoop Network blog, was there and writes:
Kevin Durant is the best small forward to have ever played in the NBA.
That was a common response to Kevin Durant's electrifying 59-point performance at the Goodman vs. Melo League clash at Morgan State University on Tuesday night; a bold, impulsive proclamation that reveals not only the command Durant has over a crowd, but also hints at his undeniable summer transformation into one of basketball's most mesmerizing talents.
No player has made more noise over the past month and a half than Kevin Durant. Outside the lines, Durant continues to be a media sensation. He has dominated the headlines and inspired columns on just about everything, from his discreet business tattoos to the color of his Nikes, and now even finds himself in contract negotiations to star in a Warner Bros. flick. (Even his backpack has an entourage.)
Everything the man touches seemingly turns to gold.
But Durant's Midas touch has been most prominently displayed on the basketball court. He has wreaked havoc in pro-am games across the planet: there was that bit of fun in the Philippines, the gravity-defying jams at Drew League, and, of course, the 66-point explosion at Rucker Park.
Durant's finest work, however, was surely his tireless assault on the Melo League All-Stars in Baltimore, Maryland.
The 6-9 forward from neighboring Washington, D.C. was a disruptive force from the moment he stepped into the gym just minutes before tip-off, inadvertently interrupting the singing of the national anthem before the tip and going on the offensive in front of 4,500 fans afterward.
Durant's unforgiving abuse of the Melo League side, specifically LeBron James, was incredible. James, who is widely regarded as one of the best perimeter defenders in the NBA, had a hard time staying close to Kevin Durant last night -- the two forwards dueled for the duration of the contest in a full court one-on-one assertion of basketball supremacy. Durant knocked down the long jumper we're all accustomed to seeing, creating space with his patented step-back move.
But where Durant really raised eyebrows was with his dizzying display of crossovers -- executed with more precision and purpose than his Melo League counterparts, Chris Paul included -- and a deceivingly quick burst to the hoop. Possession after possession, Durant left defenders off balance, outwitted and out of the picture before scoring with his choice of clever kisses off the backboard or inimitable two-handed jams over traffic.
The Goodman league superstar emerged triumphant -- his unmistakable victory betrayed only by the final score, with his team trailing by eight points at the final whistle. After 48 minutes of a back-and-forth affair, Durant left little doubt that he was the best player on the floor, which was no small feat considering he shared the spotlight with wunderkinds Chris Paul, Carmelo Anthony and the man once hailed as "The Chosen One," King James.
There has been a changing of the guard. A living legend rises in isolation.
Durant's transcendence of popular expectation is as fantastical as it is curious. It's as much a universal acknowledgment of his basketball acumen and ability as it is a product of our hyperbolic imagination spurred on by his true charm (as the antithesis of the modern self-absorbed superstar).
Durant is no longer just the face of a franchise, but rather the celebrated star of a growing global empire. He has been elevated as basketball's champion for the foreseeable future -- with or without the NBA.
Long live the Durantula.