The NBA lockout has been a major buzzkill, but there's been a second labor stoppage that also has me bummed:
For the first time since 2006, a calendar year will expire without a first-run episode of "Mad Men" appearing on AMC TV.
Why?
Because the studio, network and the show's producers couldn't get on the same page about cast salaries and new contracts and how long or short each episode should be. Even though "Mad Men" is a fruitful property for all involved, the protracted negotiations caused production of the show to be delayed for months. Rather than premiering this past summer, Season 5 of "Mad Men" won't hit the air until March 2012.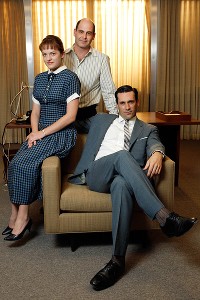 AP Photo
Fans of "Mad Men" endured a canceled 2011 season.
For all practical purposes, fans of the show endured a cancelled season, prompting some viewers to draw up petitions in protest.
Over the past few years, "Mad Men" has been my NFL. Thirteen Sundays a year, I settle in at 7 p.m. Pacific Time to watch the show. Apart from NBA basketball, it's the only television-by-appointment in my life. It's my favorite form of media escapism and the show's absence has me upset because, like any red-blooded American, I feel constitutionally entitled to my escapism.
The NBA lockout has stirred a lot of similar indignation among people who love the professional game. Many frustrated with the negotiations have shed light on the plight of the many service employees whose livelihoods depend greatly on NBA basketball. Ushers, concessioneers, security guards and ticket-takers are the collateral damage in a squabble between billionaires and millionaires. These rich guys at the negotiating table are demonstrating a callous indifference toward the working people who could face economic calamity in the event of a cancelled season.
This is a well-intentioned opinion, but is it genuine -- much less an empirically-grounded economic argument?
In recent days, Ethan Sherwood Strauss of HoopSpeak has taken issue with the sincerity of this argument, while Neil deMause at Slate outlined some of the research that suggests the absence, exodus or stoppage of pro sports in a given market has little, if any detrimental effect on the local economy and cited work by economists Robert Baade, Robert Baumann, and Victor Matheson:
"If professional sports have a positive impact on a region's economy, then one should expect a consistent pattern of increasing taxable sales following franchise expansions and the construction of new stadiums and a pattern of decreasing taxable sales ratios during periods of labor disruptions," the three economists reasoned. Instead, "no statistically significant effect on taxable sales is found from the sudden absence of professional sports due to strikes and lockouts."

It may seem counterintuitive—how can the shuttering of a major business not affect the local economy? But economists have an explanation, or rather two.

The first is a well-established phenomenon called the substitution effect. When people choose to spend money on one entertainment activity, that's also a decision not to spend that money elsewhere. Every basketball ticket you buy is a movie ticket not purchased, or a fancy dinner not eaten. If the NBA season doesn't start on time, Charlotte and Indianapolis and Portland will find something else to spend money on: college basketball, movies, restaurants.
Lost games will cost the arena usher work, but across the city other service jobs will materialize. Like the hour hand on a clock, you might not be able to see the progress, but a restaurant and a metroplex might add a few shifts each. The security firm that employs many of the arenas staffers will reassign employees to different venues. Will those reassignments make up all the lost income? Probably not, and sober economic arguments provide little consolation to folks being deprived opportunities to work, but in the aggregate, there's not much evidence that service jobs diminish during a stoppage.
Strauss believes that conjuring up the stadium worker, while possibly well-intentioned, is disingenuous:
To writers, the stadium employees are symbols. They are salt of the earth, striving, dragging regular-guy concerns and needs. They are what is "good." They are what is "real." These proletariat stand-ins stand in contrast to squabbling millionaire bastards who deign break the seal on a season we crave. Because of this, the screwed workers are a convenient cudgel against two sides whom we would wish into any damned CBA, so long as it's done and done quickly.

Billionaires, millionaires, accept concessions! Not for me, but for those who work concessions!

When lobbying for basketball's hasty return, "Think of the children!" logic just sounds weightier than, "I like when ball goes through hoop."
When I read Strauss' post, I immediately thought of the "Mad Men" stoppage. Many imagine the entertainment sector in Los Angeles to be dominated by actors, highly-paid producers and aggressive agents. But the vast majority of people who work in the industry perform more practical tasks. If you stick around for the credits of any movie or television show, you can see their names.
I wish I could say that the fight between Lionsgate, AMC and Matthew Weiner had me concerned for those who operate craft services for the show's crew, or for the security guard who stands at the door of Stage 11 or the person charged with finding cool Harry Bertoia chairs for the set or dresses for Christina Hendricks.
But the truth is that, for me, "Mad Men" isn't awesome because it's a jobs program for technicians in Los Angeles -- it's awesome because it's wildly entertaining.
When I made this argument somewhat clinically on Thursday, Tom Haberstroh pointedly asked, "What about Claudius?"
Claudius Clunis is the Sergeant at Arms in the interview room at AmericanAirlines Arena in Miami. He's beloved by both the press corps and the Heat staff. Whenever one of the Heat's stars departs the locker room for the podium, Clunis tells the room, "Mr. Bosh and the Vice President [of media relations, Tim Donovan] are on their way." Over the course of the 2010-11 season, Claudius became a friend.
Tom was right. My devotion to data and economic studies was clouding my humanity. So I called Clunis in Miami this morning on his mobile phone to make sure he was doing alright in the face of a work stoppage.
Clunis told me that, apart from a head cold, he was okay. The security firm that employs him staffs multiple venues in South Florida. Clunis worked security for Marlins games before their season ended. He'll be at a soccer game between the U.S. and Honduras on Saturday night at Sun Life Stadium and will be on site for every Dolphins game this season.
In the event of a canceled NBA season, Clunis said he'd be okay, largely because he's semi-retired and working Heat games is a labor of love.
"I work at the arena because I enjoy it," Clunis said. "I'll be okay."
This assuaged my guilt, even knowing that there are probably hundreds of others who will struggle if they lose 40-50 shifts at AmericanAirlines Arena due to a lockout.
Those employees will suffer, though virtually all the data out there says the service sector in Miami as a whole won't.
How do we balance our sympathies with reality?
It's really tough, which is one reason we call economics "the dismal science."