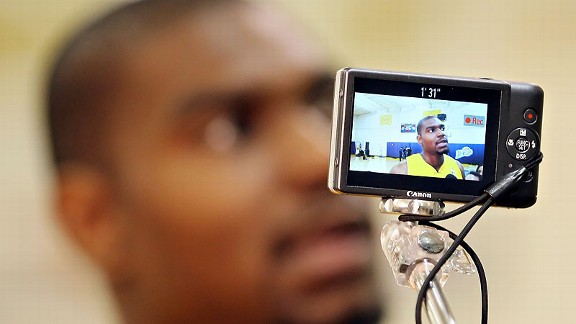 Jeff Gross/Getty Images Sport
Andrew Bynum is among those impressing in the earliest days of this short season.
Been asking Twitter and TrueHoop Network bloggers to identify players who have impressed in the first days of training camp. An unscientific assemblage of results:
Andrew Bynum
In Los Angeles, Land o' Lakers has word that Andrew Bynum is looking good after a summer of boxing, running and lifting. He looks skinnier to most, but says he actually weighs more, having turned fat into muscle. Most importantly, he says his troublesome knees "feel really good" now.
The Utah Jazz bigs
All kinds of people have been talking about Jazz center Mehmet Okur, who is said to have recovered nicely from a torn Achilles. In a league with very few effective big men, that matters in and of itself. Deseret News beat writer Jody Gennessy tweets that all the Jazz big men ups the ante, though, reporting that Al Jefferson, Derrick Favors, Paul Millsap, and Enes Kanter all look to be in excellent shape too. If all five are at their best, it's hard to name any team with a better collection of big men. Plenty of contenders could use a stretch 5 like Okur ...
Zach Randolph
Word is the Grizzlies big man found an intense new trainer, Whole Foods and a new level of fitness. Randolph says he was determined not to return from a lockout out of shape like his friend Shawn Kemp.
Kobe Bryant
In talking to ESPNLosAngeles Lakers writer Dave McMenamin about Andrew Bynum, who he said was probably the Lakers of note in early camp. But he added that Kobe Bryant up looking "pretty damn ready" too. Take note.
Ricky Rubio
One of the Spaniard's new Minnesota teammates says Ricky Rubio's new shot is nothing special ... but Rick Adelman has been letting Rubio do what he does with the ball, creating off the dribble and passing. And even against NBA defense, the rookie has looked "very comfortable."
Hasheem Thabeet
He may still be amnestied in the name of cap space for the Rockets' next big move. But that doesn't mean that, after spending a few months revisiting his Connecticut roots, he isn't looking like a whole new man patrolling the paint and even dunking in scrimmages.
Kendrick Perkins
Word is he has lost 30 pounds, and that's easy to believe in photos. (Hat tip: Daily Thunder.)
Drew Gooden
The big Buck is looking skinny. (Via Bucksketball.)
Amare Stoudemire
Grew an inch. Or was measured differently. Or something. It's weird to him, too. (Tip: Robert Silverman of Knickerblogger.)
Andris Biedrins
Maybe the Warriors didn't need Tyson Chandler after all. Rasheed Malek of WarriorsWorld says: "Biedrins looks physically mature, significantly bigger in the upperbody, arms and shoulders."
Steve Nash
Still in amazing shape. (Hat tip to James Herbert.)
Daniel Orton
The Magic backup big man has been healthier and better than ever, according to reports. (Hat tip to James Herbert.)
Charles Jenkins
Rasheed Malek of WarriorsWorld on one of TrueHoop's favorite NBA players: "Jenkins looks like a veteran, strongest guard on the roster, really looks to punish and exploit his strength to his advantage."
Thabo Sefolosha
The Thunder stopper is reminding people he can score too, as he just proved playing in Turkey.
Not DeMarcus Cousins
The Kings big man told reporters with a wink that the celebrated the lockout with entire pizzas and funnel cakes. (Via Jonathan Santiago of Cowbell Kingdom.)