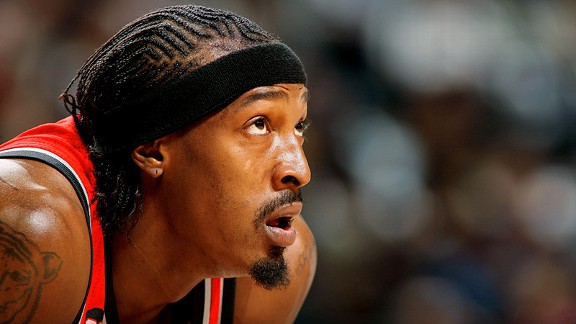 Kent Smith/NBAE/Getty Images
Gerald Wallace was not happy to be dealt to Portland last March. Now he's the toast of the town.
Gerald Wallace scored the vast majority of his 25 points on Tuesday night in two ways:
Wallace chewed up the open court in transition. Whereas some players have the self-serving habit of lingering around the circle on defense waiting for the first chance to leak out on the break, Wallace almost always remains in the play. He's primed defensively, prepared to box out his guy or zip in from the weak side to contest a shot if there's an opportunity. But once the shot goes up and it's clear by the ball's trajectory that Marcus Camby or another teammate has a bead on the rebound, Wallace zips down the floor -- and nobody is going to win a foot race down the floor against Gerald Wallace.

Wallace abused the Kings as a weak-side cutter. Brandon Roy's retirement leaves the Trail Blazers without a lot of pure shot creators along the perimeter. Portland picked up Jamal Crawford a couple of weeks back but, in truth, Crawford is more shot than creator. If the Trail Blazers want offense from anyone other than LaMarcus Aldridge, they need to manufacture looks. On Tuesday night, Wallace put together a reel of off-ball cuts that would make every high school coach in the nation smile. Wallace situates himself in the corner when the Trail Blazers go to work in the half court. Once the ball moves over the opposite side of the floor, a teammate (almost always a guard, though Chris Johnson got into the action late) sets up on the block. At this point, Wallace streaks from the corner, rubbing his man off that teammate. Ball delivered. Ball scored.
The knowledgeable Portland faithful loves this kind of stuff, which is why chants of Ger-ald Wal-lace rained down from the upper bowl at the Rose Garden on Tuesday night.
Wallace was shocked last March when he was dealt from Charlotte to Portland. Normally reticent, Wallace called the trade a "slap in the face," and a "stab in the back." Few players list Charlotte as a preferred destination but Wallace, a native southerner, is one of them. Only 28 years old, he declared with an endearing naiveté that he thought he'd retire a Bobcat. Instead, he got dumped into a reserve role as far away from Childersburg, Alabama as you can get in the NBA.
In July, Wallace can opt out of his current deal which is scheduled to pay him $11.4 million in 2012-13. There will be far more cap space than players worthy of it next summer, and Wallace -- who will turn 30 during the free agency bonanza -- will likely command big money from a team in search of a ... Gerald Wallace.
Classifying Wallace as a wing or a forward doesn't do his skill set justice. While he prefers to be penciled in as a "3," Wallace can wreak havoc doing any number of things. He can defend all over the floor, play as a smallball big, thrive in both grindfests and track meets. Last night Wallace's 25 points came on only 15 true shots -- and he added eight rebounds, five assists and a couple of blocked shots to his line.
Whether Wallace is the best long-term allocation of resources for a team loaded with perimeter players is a matter of debate, but the Trail Blazers reportedly want to keep Wallace in Portland. That's why interim general manager Chad Buchanan was thrilled to hear Section 314 serenading Wallace [via Jason Quick of The Oregonian]:
We do have to do the little things to keep talent because we are not a major market. We are not Hollywood. We are not New York City. We are not Miami. But we do have a lot of things to offer...

... From a basketball standpoint, this is as good as there is in the NBA. We have a great building, a great owner, a great coach, great culture and that's what eventually sells guys on staying with us. And we have the best fans in the league, and the guys know that. It's huge for our guys to know that our fans know the game, and recognize guys who play hard and play the right way.
The allure of the glamour market has been one of the enduring themes of the conversation dating back to July 2010. It seems to inform virtually every discussion -- LeBron, collective bargaining, revenue sharing, Sacramento and the Maloofs, the Chris Paul saga, the Dwight Howard sweepstakes.
Portland can't compete with Los Angeles, New York and Miami in many respects, but spend five minutes at the Rose Garden on game night and you'll be infected by the vibe. Having suffered a broken heart with Roy's retirement, Oden's endless trials and the disintegration of what looked like the best collection of young talent in the league, Trail Blazers fans desperately need a vehicle for their boundless affection. Wallace is the most recent recipient for that love.
Wallace's brother Courtney was courtside when the chants started. "It's a great sensation," Courtney Wallace said. With a smile on his face, Courtney Wallace told Quick that his brother had acclimated to Portland. After the game, Wallace said that setting up house was crucial:
We've been able to get comfortable ... We know our way around the city, we have been able to meet people, get out and do things. And we have a home. And once you get that feeling, things open up for you.
For a lot of marquee players, stability is something to aspire to after a career. It's still unclear whether, come next fall, Wallace will be playing for his third team in 18 months. But now that he's gotten some distance from the emotional shock of being shipped out of Charlotte, Wallace seems amenable.
Portland is not Hollywood, New York City or Miami. But for the time being, it is home.