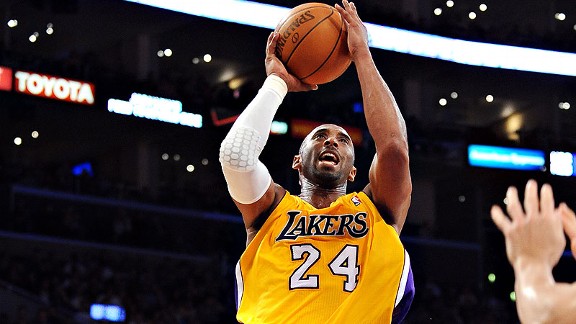 Noah Graham/NBAE/Getty Images
In the early going, nobody is taking more shots than the Lakers' Kobe Bryant.
A few games in, it's too early to conclude much from statistics. But it's fun to take a peek nonetheless. Watching Monta Ellis the other night, looking like he was paid by the field goal attempt, it struck me that he had to be shooting more per minute than anybody in this young season, right? As it happens, wrong.
THE GUNNERS
After games of January 1, 2012, per Basketball-Reference, these are the men who led the league in field goal attempts per 36 minutes. I eliminated everyone who has played less than 50 minutes, and added true shooting percentage -- which values free throw and 3-pointers in a clever way -- to help figure out who is not just shooting, but also scoring:
Being on this list is not strictly a good or a bad thing. Being on this list and missing a ton, though, well there's no way that's not hurting your team. Al Jefferson, Danny Granger, Russell Westbrook, Rudy Gay, DeMarcus Cousins and Michael Beasley might have just gone through slumps, in which case, these numbers ought to come up in a few weeks. If not, it's time to have a hard talk about shot selection.
Meanwhile, look at who didn't make the list. Kevin Durant (22nd), Kevin Martin (23rd), Kevin Love (42nd), Carmelo Anthony (55th), Manu Ginobili (62nd) and Derrick Rose (82nd) are not in the top 20 in attempts per minute, but they are in the top 20 in true shooting percentage. Ginobili, in fact, leads the entire league by that measure of scoring efficiency, followed closely by two of Westbrook's teammates, Daequan Cook and Durant.
Jason Kidd, Ricky Rubio or Tyson Chandler, on the other hand, have hardly been shooting at all -- only a handful of rotation players have shot less. Dwight Howard, Chris Paul and James Harden have all made headlines, but none rank in the top 100 in shots per minute played. Steve Nash has been called the best shooter in the game, but he has only been 97th in shots attempted per minute in his young season.