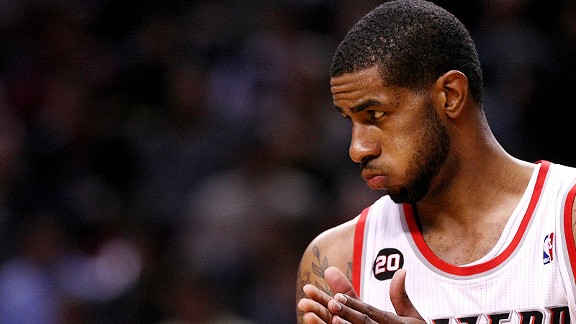 Jonathan Ferrey/NBAE/Getty Images
LaMarcus Aldridge on the joys of working with Andre Miller, "It's crazy playing with him!"
Being a big man in the NBA is an exercise in problem solving.
A defender is fronting you and preventing an easy entry pass from your point guard? Problem. You're getting double-teamed the instant you catch a pass down low? Another problem. The defense is rotating along the baseline before you can get into your move? That's a problem too.
For most of LaMarcus Aldridge's career in high school and college, the solution to most of these problems was pretty simple. Aldridge would get the ball just off the left block, then bang his man into submission with his left shoulder. A couple of dribbles, rise and release -- sometimes with a right hook, at other times with a turnaround jumper.
Finding his shot wasn't all that difficult because he never had to look very hard for it. But NBA defenses have a way of complicating that process. They'll send ridiculously big guys on a one-way fare from the weak side baseline to your left shoulder before you even catch the ball. And banging your primary defender isn't nearly as much fun when he's got 25 pounds on you, which many of Aldridge's counterparts did.
Aldridge was still effective over his first few seasons in Portland, but there were nights when he'd allow a more rugged defender or a targeted defensive game plan to frustrate him. If his shot wasn't there, it wasn't there. And there wasn't much he could do about it, he thought.
But last season, Aldridge's game blossomed. It wasn't just that he became more comfortable challenging defenders one-on-one in the low post. Aldridge started to find shots in places he never bothered to look. He began the process of problem-solving.
On Tuesday night, Aldridge dominated the Thunder during Portland's big road win in Oklahoma City. He scored 30 points on 10 for 19 shooting from the field, and a 10-for-12 effort at the stripe.
Was it effortless? No. Aldridge worked for those points. When Nick Collison stood his ground, absorbing every one of those left shoulder bumps as Aldridge tried to back him in, the ball was kicked back up top to Raymond Felton. Then, before the Thunder's ball-side defense could regroup, Aldridge laid out a screen for Felton on Russell Westbrook, then spun on his right foot and took off for the hoop. Easy pocket pass, then a nifty reverse finish for Aldridge after sealing off the baseline against Nazr Mohammad.
Throughout the early season, we've seen Aldridge kill opponents with 'Plan Bs.' Take the game at Sacramento last week, when a defiant Chuck Hayes kept pushing Aldridge off his favorite spot on the left side. What did Aldridge do? He flashed to the foul line, where Felton fed him for some easy face-up jump shots. Problem solved.
If you ask Aldridge why it seems as if he's having an easier time identifying opportunities he might not have seen a couple years back, he'll tell you it's a process of maturation.
"It's growth," Aldridge said on Sunday night in Los Angeles. "I know I have to get touches and I know I have to score. So if they're double-teaming me, I know that, if I duck in, I can get my jump hook more easily."
Reps matter, as does playing alongside a vet like Marcus Camby, whom Aldridge credits for helping him understands the intricacies of the Big Man Arts. But Aldridge reserves his most generous praise for former Portland point guard Andre Miller.
When Aldridge would encounter impossible situations on the floor, Miller would address him during a timeout with specific directions out of the bog.
"He not only knows where to find you, he'll tell you where to go," Aldridge said.
Miller doesn't like to talk, which Aldridge said made those instructions even more consequential. If Miller felt strongly enough to offer counsel, it was for a reason.
"Teams are fronting me or double-teaming me…he was like, 'Don't fight it. Just go to the rim, I'll find you,'" Aldridge said. "And I was like, 'I can't even see you,' And he said, 'Just go to the rim. I'll throw it there.'"
That little bit of advice helped Aldridge perfect his crafty spin move to the rim, where he catches a lob, then throws it down.
"There was a game at home -- I think against Orlando. I was getting double-teamed on the catch and I had, like, zero shots going into the second quarter. Andre said, 'This time don't even fight. Just go to the rim.' So I slipped to the rim and ..."
Aldridge had a big smile on his face as he punctuated the sequence. He then shook his head.
"It's crazy playing with [Miller]," Aldridge said.
Early on, Aldridge has been pleased with Felton, Miller's replacement -- particularly in pick-and-roll play. But Aldridge recognizes that it will take some time before the two cultivate the kind of chemistry he had with Miller.
When told that Miller consistently ranks at the top of the list of guards who rack up quality assists and improve the field goal percentage of his teammates, Aldridge wasn't the least bit surprised. These are rarified stats that don't pop up in box scores -- very few casual observers know this stuff. Most players probably don't even know it.
"But the big knows it!" Aldridge said. "I know it!"