This is an INSANE time of year for those players hoping to be picked in the NBA draft. The logistics alone are pretty bad: most are running from city to city trying to put on the basketball show of their lives in private team workouts, while spending hours and hours stuck on crazy flights and in strange hotels. Normal patterns of eating and sleeping are abandoned entirely. On top of all that, they're about to become millionaires. Or not -- if they mess up these workouts. And they're about to move somewhere, to some city, where they will take orders from coaches they are in most cases just meeting for the first time now. Through all the stress, pressures, and miles, the players are supposed to be majestic, undaunted, and charming. It's exciting, it's bizarre, and it's weird. Starting now, and through the draft, TrueHoop will be following the emotional experience -- with repeated interviews -- of a handful of draft hopefuls. We're calling it "Just Pick Me Already."
First up: Virginia Tech guard Zabian Dowdell.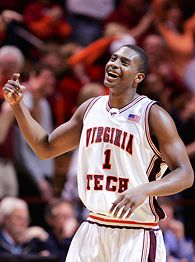 Zabian Dowdell has always had the kind of talent (a good profile) that made him a candidate for the NBA. But he has distinguished himself in NBA circles for his character. For instance, when tragedy struck at Virginia Tech. Almost instantly he pledged $5,000 to help those struck by the tragedy. He didn't grow up with a lot of money in South Florida, but he also didn't care. He did what needed to be done.
His pre-draft training was with my friend (and ESPN expert) David Thorpe at the IMG Academy in Florida. David and I often chat about his players, and before Dowdell started jetting all over the country, when he was in the gym every day, Thorpe just kept having better and better things to say about him -- he has amazing reach for a guy his size, his basketball IQ is very high, he works extremely hard, he's a dream to coach -- the praise just kept coming. I was intrigued.
So, it appears, are the San Antonio Spurs. Dowdell is, by all indications, a candidate to join the world champs with their 28th pick. (In ESPN Insider Chad Ford's latest mock draft, Dowdell is mentioned as a possibility to go to the Spurs, but is predicted to be going a few picks later.)
Today Dowdell is on his way back to San Antonio for his second visit, and says he'd be happy to adorn a Spurs cap on draft night. Not only are they the champions, but they also potentially have some minutes for a young point guard. We spoke late yesterday.
Where are you?
I just got done working out in Portland, and I'm sleeping here tonight and then tomorrow I head to San Antonio.
How did it go?
It was good. In Portland I got a chance to sit down with the coach and he gave me some positive feedback. He said he liked what he saw and explained how the team might use some of their second round draft picks. He didn't make me any promises, but he gave me some insight into what they might do.
Must kind of tear you up, not knowing what's going to happen with your life.
You know how it is. I can understand why teams don't want to tell everyone what they're going to do. They don't want to give any indication. My agent tries to get feedback and a lot of times you can't hear anything. That's a good thing and it's a bad thing. I wouldn't want to hear a promise now. It's so early in the process. If someone made me a promise now, I wouldn't believe it.
Seems like San Antonio is pretty interested, though.
This my second time, going back. I guess they wouldn't do that if they didn't see something they liked. It's a great situation. I like the system. And now this second visit is a chance to meet some more people and hopefully impress Coach Pop and the staff. You can see the quality, though. Anyone who has ever seen the Spurs play knows they're a good team.
Is that your first pick?
I just want to get drafted.
You're in Portland. You have been living in Virginia, then trained in Florida, where you grew up. Now you're headed to San Antonio ...
I feel like a nomad, man. But you know what? A lot of people don't get this opportunity. I'll take it. I talked to some players who have been on two or three workouts. I think this will be my eighth. I'm grateful for the opportunity. And I still have two more left.
Is it every day?
Yesterday at Golden State and today in Portland was my first time going back to back. But sometimes that's better, just to be out on the court, instead of stuck in the hotel room thinking about it and waiting.
Where was your toughest workout?
Probably New Orleans. They had us do a lot of stuff before we even got on the court. All kinds of testing. Pushups for a minute, 40 yard dash, 20 yard dash, and a lot of other stuff.
Is there some drill that you really hope will come up because you know you are good at it?
I'm a perfectionist. I try to be perfect at every drill.
You working out against the same guys again and again?
Oh man, if I see D.J. Strawberry or Jared Jordan again I dont know what I'll do. I have worked against those guys four times, I think.
You follow all those mock drafts?
My family does that more than me. At this point, it would be too crazy for me to get caught up in all that. It might affect my performance.
When you fall asleep at night, do you just kind of wish that it would be two weeks from now and you could know what will happen with your life?
It feels like a long process, but I'm OK with it. All I can do is just go out and try my hardest to impress some coach or GM or someone. Then we'll see what happens.
Talk to you again soon.
Take it easy.
(Photo: Streeter Lecka, Getty Images)