This is an INSANE time of year for those players hoping to be picked in the NBA draft. The logistics alone are pretty bad: most are running from city to city trying to put on the basketball show of their lives in private team workouts, while spending hours and hours stuck on crazy flights and in strange hotels. Normal patterns of eating and sleeping are abandoned entirely. On top of all that, they're about to become millionaires. Or not -- if they mess up these workouts. And they're about to move somewhere, to some city, where they will take orders from coaches they are in most cases just meeting for the first time now. Through all the stress, pressures, and miles, the players are supposed to be majestic, undaunted, and charming. It's exciting, it's bizarre, and it's weird. Through the draft, TrueHoop will be following the emotional experience -- with repeated interviews -- of a handful of draft hopefuls. We're calling it "Just Pick Me Already."
Yesterday we heard from Virginia Tech guard Zabian Dowdell. Today it's one of the nation's leading scorers, Morris Almond of Rice.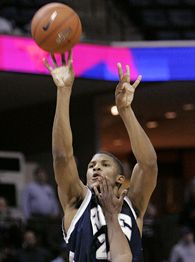 Everybody loves Morris Almond. For one thing, he can shoot like it's going out of style. The 6-6 guard was third in the nation with a 26.4 scoring average, with seven double doubles. He can shake his defender a million different ways, and is always ready to shoot and make. He's also not a bad rebounder.
But the real story is that he was one of the best students in the draft. He talks with pride about his time at Rice, on and off the court. And when I approached him about being interviewed for TrueHoop's "Just Pick Me Already" series, his response was that he would happily be interviewed, but he'd also kind of like to write his own contribution. Never even occurred to me to ask. Below, without any editing whatsoever (which means he makes fewer typos than me) is his first contribution, written late yesterday:
What a process. When the opportunity came to write this piece for TrueHoop, I jumped at it, almost for the sole reason that it gave me something new to do during the down times in the hotels and airport terminals (I'm sitting at my gate awaiting a flight as I type this).

I just finished a workout and interview with the San Antonio Spurs. They are the ninth different team that I have visited and auditioned for as the upcoming NBA draft approaches. I have four more stops to make before I finish my draft "tour," as I like to call it.

As you probably already know, its pretty much the same routine for each team you visit -- on-the-court drills and competitions with two or three other prospects, followed by an "interview" meeting with the GM, coaching staff, and other team executives. That's the best part of the process -- being able to showcase and present yourself to all the different teams in such an up-close and personal manner.

As a competitor, I was excited and hungry to prove my worth as one of the top shooting guards in this year's draft.

The adrenaline I usually have before each workout usually makes me forget (for the time being) about the other less glamorous part of the process: traveling from team to team and navigating through those concrete jungles they call airports. Don't get me wrong -- I won't dare complain about any part of the draft process, because I don't take this opportunity for granted.

Like Coach Popovich said at the conclusion of my last workout: "There are worse places you could be flying to ... you could be on a flight to Iraq serving your country rather than flying to an NBA city." As the son of a retired Army veteran, I agree wholeheartedly.

But if there is a 'downside' to the process, most players would agree that it's the travel. The delayed flights. The cancelled flights. The additional security screenings. The chatterbox passenger in the seat next to you. The jet lag.

If you're 6'6 or taller like myself, the two magic words in any airport are EXIT ROW. Those are a must-have, especially for those three and four hour plane rides. Last week, I visited five different cities, for five different teams, in five days. And one of those teams was in LA, one was in Miami, and one was in Detroit.

By the time I finished the last city in that string, I had listened to every track on my 3,500 song ipod, read through every magazine I was even remotely interested in on the airport newsstands, and even broke down and cracked open a book or two. You know I was desperate for some kind of entertainment at that point.

You get used to the drill quickly though. When you remember what's at stake, and how long you've persevered to reach this point in your life and career, it makes it all seem like a very small price to pay. Personally, after my recent college graduation, this will be the next big milestone in my life. Things will all start to fall into place as the seconds, minutes, hours, and days creep slowly towards the 28th. It'll feel good to finally have an answer to the question I get asked all the time in the airports and hotels: "Which team do you play for?" Get back at me in about a week for that one.
(Photo: Getty Images)