This is an INSANE time of year for those players hoping to be picked in the NBA draft. The logistics alone are pretty bad: most are running from city to city trying to put on the basketball show of their lives in private team workouts, while spending hours and hours stuck on crazy flights and in strange hotels. Normal patterns of eating and sleeping are abandoned entirely. On top of all that, they're about to become millionaires. Or not -- if they mess up these workouts. And they're about to move somewhere, to some city, where they will take orders from coaches they are in most cases just meeting for the first time now. Through all the stress, pressures, and miles, the players are supposed to be majestic, undaunted, and charming. It's exciting, it's bizarre, and it's weird. Starting now, and through the draft, TrueHoop will be following the emotional experience -- with repeated interviews -- of a handful of draft hopefuls. We're calling it "Just Pick Me Already."
Next up is Jared Dudley of Boston College.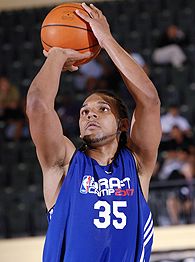 He's one of the few players you can introduce this way: Here he is on video, shopping with ESPN's Andy Katz. He's a 6-7 forward who improved his statistics in all four years at Boston College. As a senior, he was a finalist for the Wooden Award. The NBA Draft Media Guide praises Dudley for his tirelessness, and and for being well-positioned on the court at all times, which gets him buckets and rebounds many other players his size wouldn't get. He's also not afraid of shooting from the outside.
I caught up with him earlier today from, no kidding, San Antonio, which seems to be where every player I talk to -- Morris Almond, Zabian Dowdell, I think Petteri Koponen will be joining us soon -- happens to be. I was looking for guys with excellent character who weren't in the lottery so I guess it's no surprise that we'd end up chasing a lot of the same players as San Antonio, whose highest pick is 28.
How is it going?
Going good. Can't ask for it to go any better, honestly.
That's great. What are you hearing?
People are surprised, I think, that I can shoot with that kind of range, from NBA three. I have been able to show that, and I think I'm in the mix for a lot of teams. And you only need one of them to fall in love with you.
Do you have a sense of where you might end up?
No, not really. I'm starting to think I'm not a late second round guy. But you never know. Am I a fit at 37, 38? You never know.
What kind of draft preparation did you do?
I went to Las Vegas, and worked out with Joe Abunassar. He really helped me get my weight down, and helped me expand my range.
Do you have any preference to live in one part of the country or another?
Not really. I am from San Diego, and I went to college in Boston, so I have seen the opposite coasts. I'm just eager to be playing in the NBA. The only thing is that I'd love to be in a big city.
Why?
I want to go out and see new things. Meet new people. That's easier if you're somewhere like Philadelphia, Chicago, Miami, Los Angeles, Houston, San Antonio, Dallas, or New York. Those major cities have stuff to do that you won't find in, say Indiana.
What about not knowing where you're going to live? Are you living out of a suitcase right now?
I have half my stuff in Las Vegas. The other half is in San Diego.
Guess that's pretty convenient, because you'll probably be at summer league in Vegas next month.
Then I'll just ship to whatever city it has to go to.
Any thought you might play in Europe or do you expect to play in the NBA?
I expect to be in the NBA.
What do you do with all your free time on the road?
I talk to friends, I watch a little TV. Mostly I do all the little things to keep myself ready. I make sure I sleep. I eat right -- and try to avoid most of the junk food they have in airports.
What do you eat?
A lot of grilled chicken, grilled turkey, fruit, and water.
Makes a difference if you eat right, huh?
It really does.
Are you feeling like you still have a lot of energy?
I feel like I got my second wind. I have enough energy to do all these workouts. I have had enough days off in between. I have been able to keep banging.
You sound pretty cool and calm about the whole thing. Aren't you a little worried?
I'm definitely a little worried. But I'm confident that the right team, with the right situation, will pick me.