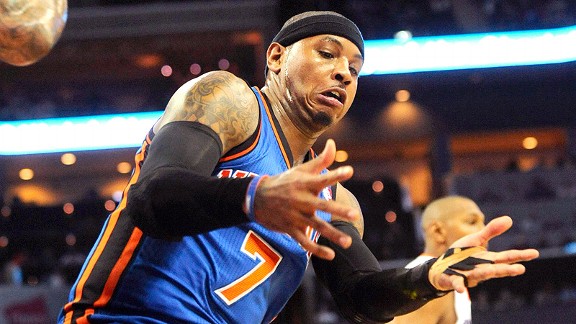 Sam Sharpe/US Presswire
Carmelo Anthony is having a hard time identifying good shots.
After making 10 of 30 shots against the Nuggets, Carmelo Anthony didn't talk about the other team's defense. He didn't talk about how he'd do things differently next time.
He talked, instead, about not knowing what he should do.
"When you're missing shots and they're right there and they're not going in, you say 'Maybe the next one, maybe the next one.' That's kind of the mentality that you have. But maybe I need to stop shooting a lot, I don't know. It's just a bunch of stuff that goes through my mind right now."
My first thought, when I heard that, was that Carmelo sounds like a hitter who is having trouble seeing the strike zone. That's an idea borrowed from the book "Moneyball," which included the big revelation somebody who can see and hit the ball is always valuable, but also of value is somebody who can see the strike zone and know which pitches to lay off. A lot of those guys Billy Beane's Oakland A's went out and got were guys who were experts in knowing when not to swing.
The basketball equivalent of baseball's "to swing or not to swing" is "to shoot or not to shoot." If you're a guy who can score from all over, and Anthony surely is that, it can be mighty hard to decide when not to shoot. It can be hard to see a pitch coming at you, as it were, and think, "I better not swing at that." Anthony hits so many tough shots it may be hard for him to know which ones are tough.
David Thorpe, who thinks like a coach, had a different first thought at seeing Anthony's quote. He saw a star player, someone integral to the team's entire offensive system, saying "I don't know" and alarm bells went off.
"This," says Thorpe, "is 'whoa,' if you're on the Knicks coaching staff. 'He's not really sure what we need from him. That's our job.'"
Mike D'Antoni and his staff are already under the gun. Coaches have limited power to make stars listen under the best of circumstances, and now the Knicks are disappointing, D'Antoni's in the final year of his deal and Phil Jackson rumors are circling like police choppers.
Maybe there's nothing D'Antoni and his staff could say or do to get Anthony taking only shots that are highly likely to go in. (George Karl wrestled mightily with that particular challenge.)
But nevertheless, it certainly appears Anthony remains unclear about how and when to shoot. He followed that 10-of-30 game against Denver with a miserable night in Charlotte. He missed seven shots and got to the line for his single point not by drawing a foul, but by being selected to shoot a technical free throw. The Knicks beat a bad Charlotte team missing its starting point guard. Clearly, though, Anthony still has not found the right mix of when to shoot and when to pass.
He was quoted after the game saying that he is pleased with how he played, telling The New York Times: "I told you the other day I would try and do a good job of distributing the ball, getting the guys more involved, and finally, I did that tonight."
He did have four assists, and the Knicks did win. But I'm not convinced Anthony's any closer to knowing which pitches to swing at, and so long as that's true it will be tough for the Knicks to be anything like what they might be.