ESPN's John Hollinger has an excellent article about Rashard Lewis's migration to Orlando. He pokes and prods every aspect of the deal, especially how it may well make Darko Milicic a free man on the open market.
Hollinger also writes:
The Sonics obviously were interested in keeping Lewis, otherwise they wouldn't have flown to Houston this week to woo him. The key here is that Orlando's number was bigger than Seattle's number. With Kevin Durant and Jeff Green already in the fold, Lewis replicated some skills the Sonics already had, so while the Sonics probably would have been OK with something less generous, they weren't going to make a bid in Orlando's range.

And by not maxing out Lewis right now, the Sonics are better poised to add players later. Removing Lewis' cap hold puts Seattle $3.8 million under the salary cap right now, if we assume a $56 million cap for this season (again, the final number won't be known until July 11).

But the big splash is two years down the road. At that point, the expiring deals of Wally Szczerbiak and Chris Wilcox will take roughly $20 million off the Sonics' books. While extensions to Robert Swift and Delonte West are likely to eat up a portion of that, it still leaves Seattle with more than enough dough to chase a superstar in the summer of 2009.
I know people in Seattle are a little forlorn at losing the team's two best players in less than a week, and getting, in exchange, a sum total of (assuming Lewis ends up leaving as a pure free agent, not in some kind of sign-and-trade) an oft-injured veteran, the backup point guard from the second worst team in the league, and a draft pick.
However, I think people in Seattle should hang tough. It's a new universe for you now. Job #1 for the SuperSonics is no longer taping some bits and pieces together and praying for something magical to happen. Job #1 now is executing a master plan of long-term global domination, starring that young fellow who could prove to be the best player in the NBA.
Seeing to it that Kevin Durant is in a position to succeed -- as a player, and as a teammate -- is the most important of Sam Presti's priorities now, and losing Rashard Lewis while gaining future cap space hurts that none.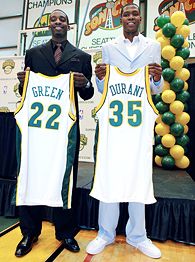 Messing up that Durant kid is the only way this thing doesn't get much better in the years to come. And you're on his schedule now. When he's ready to be MVP, your team is fantastic again. And in that regard, Rashard Lewis was to Kevin Durant what Zydrunas Ilgauskas was to LeBron James. Good. Really good. Been a rock for a long time. Hate to see him go. But in the final analysis, wouldn't Cleveland kill for some cap room now?
Did you see what Hollinger wrote? Barring surprises, Seattle will have enough cap room to add a superstar in 2009? That means Durant will start coming into his own, really eating people alive, making Seattle (or Oklahoma City, or Kansas City, or wherever ... here I depart from my "it'll all be OK, Seattle" argument) the Cleveland of the East, with cap room? It's not immediate gratification, but it's a thing of beauty nonetheless.
All indications are that there could be more changes coming, too.
In the meantime, Kevin Durant gets to play with longtime friend Jeff Green, and he gets to make mistakes along the way without a veteran in his prime angling for some of Duran't touches. The team gets to dedicate resources and the spotlight to Durant, making his development the main focus, instead of chasing the charade that the transition will be graceful.
Remember: what was happening in Seattle wasn't working. Now you know it likely won't be working this year either. But this year barely matters. You're in a spaceship headed to the moon. So what if, in the first few minutes of the ride, the view isn't so great?
UPDATE: Writer Sherman Alexie, who is a big Sonics fan, writes:
I am very depressed to lose Ray and Rashard, and yet keep Luke Ridnour. If we do indeed retain Luke for the season, he'll start off well, play decently for 20-25 games, then will fade, and lose playing time to Earl Watson and/or Delonte West and/or a random guy picked up from the Seattle Athletic Club, and will lose his starting position around game 45 or so, will start whining about it during game 46 or so, and will plunge into a smelly spiral of arrogance and self-doubt and endlessly missed open jumpers (I should YouTube a montage called, "C'mon, man, I had to shoot, I was open: The Luke Ridnour Era" or one called, "Yeah, I know I'm playing D three feet off Chauncey Billups, but hey, you try to guard him, okay?" ).

All the while, thousands of Luke Ridnour fans will flood the blogs with their pleas for patience as Luke will surely play up to his potential any moment now (potential being a relative term, of course, since Luke did play three years in college and will be in his fifth year in the pros).

Of course, if you did a demographic study of Luke Ridnour fans, you'd discover that their average height is 5-9, weight, 125 pounds, and hairstyle, George Clooney on "ER," circa 1994, and skin, Northwest trout meat pale. Of course, it's just a coincidence that Luke looks exactly like his most ardent fans, and vice versa. Repeat after me: It has NOTHING to do with race.

But Luke hatred aside, I take comfort in the fact that Kevin Durant will get 32 shots a game, that Wally Z will get injured putting on his socks sometime in December, and that Robert Swift, Johan Petro, and Sene will combine to average three blocked shots, six rebounds, and 16 fouls a game. We'll win 24 games, will pick in the top five in next year's lottery, and we'll draft one of the great point guards coming out next year, sign another superstar free agent in 2009, and the Las Vegas Sonics will win the NBA championship in 2011.
(Photo: Terrence Vaccaro/Getty Images)