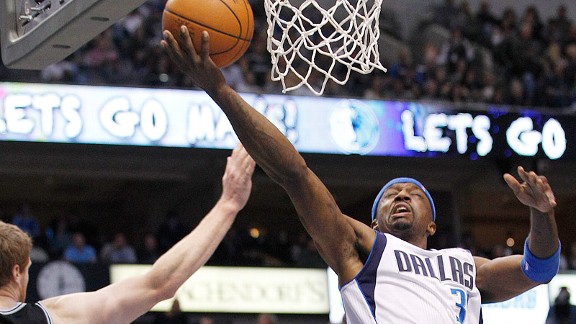 AP Photo/LM Otero
Jason Terry was on a short list of players who scored efficiently in crunch time Sunday.
It has been shown all kinds of ways that in crunch time NBA offenses struggle. Buckets are just hard to come by.
This may be because coaches put their best defenders on the floor, in their best schemes. It may be that defenders play with maximum intensity. It may be that this part of the game features a lot of timeouts and dead balls, and therefore very few fast breaks or easy buckets. It may also be that a lot of teams, in crunch time, simply give the ball to their best players and let them create -- which is predictable to defend and gets mediocre results all game long.
Sunday featured a staggering five games that came down to the wire -- an all-you-can-eat buffet of last-second hoops drama.
And yet, I couldn't help but notice ... a heck of a lot of those games did not come down to makes, but to misses.
I tallied it up. In the final two minutes of regulation or overtime of the five close games, teams made just 39 percent of their shots. They were even bad from the free throw line, hitting just 62 percent. Both numbers are well below average.
Especially interesting, though, is that through all those misses, a few guards were perfect. Kobe Bryant, Chris Paul and Jason Terry combined to hit all six of their field goal attempts and all seven free throws. Terry was the particular hero, finishing 3-of-3 from the field and the same again from the line.
Ten teams played in crunch time on Sunday. Thanks to those guards, the Lakers, Mavericks and Clippers shot a combined 77 percent from the floor (10 of 13), while making 71 percent (10/14) from the line. The other seven teams in crunch time -- the Heat, Bulls, Spurs, Cavaliers, Celtics, Nuggets and Timberwolves -- made just 28 percent (12/43) of their shots from the floor, and 53 percent (8/15) from the line.
None of it means all that much. It's such a tiny number of shots that who did well and who missed could all simply be random. But it's fairly typical that offenses in general struggle.
What's cool is that, through all the misses, a few players were essentially perfect scorers.
Some other fun notes:
The Heat and Celtics, boasting some of the more respected veteran scorers in the game, finished with zero field goals, out of eight attempts, in the final two minutes.

Carlos Boozer made both of his shots in the final two minutes.

Thanks to overtime, the Spurs and Mavericks had twice as much crunch time as every other team, and managed a league-high nine crunch time attempts each over the four minutes. But the Timberwolves managed eight attempts in just two minutes. That they only hit two was their big problem.

The Clippers got to the line so much (five attempts, tied for second to the Heat) that they were able to win with only one field goal attempt in the final two minutes -- a Chris Paul make.

At the end of regulation, the Mavericks scored nine points on four possessions. It was all Terry and Rodrigue Beaubois. No team matched that run, but the Lakers and Clippers were close, with eight and seven, respectively, in as many tries.