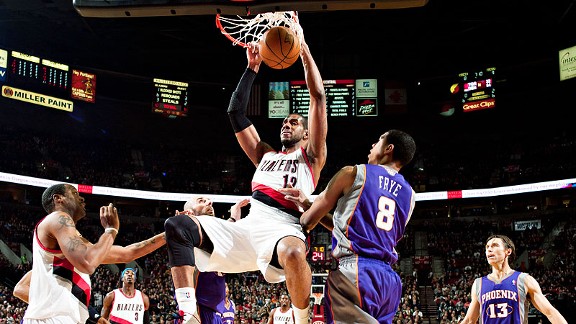 Sam Forencich/NBAE/Getty Images
The Portland forward is the engine of a top team, but is on the All-Star bubble again.
The Blazers' season could scarcely have gotten off to a worse start. A matter of hours after the team came together after the lockout all three pillars of the team fell to medical concerns.
Brandon Roy shocked the world, and the team, by retiring from the NBA in deference to his knees.
A consultation with an expert in Colorado revealed yet another setback for Greg Oden, with no timetable for his return.
Once again it would fall to LaMarcus Aldridge to keep the team competitive, but ... once again his heart was showing an abnormal firing pattern, a recurrence of a heart condition he had treated when he was new to the league.
There was talk of ablation, nodes, weeks missed and returning weaker.
Nobody was saying anything about making noise in the West. There was little fight to muster.
And from Aldridge's point of view, a fourth player would also be missed. "It was like oh man," said Aldridge of life without Andre Miller, the point guard who had thrown the lobs that got Aldridge most of his easy points, who had been traded to the Nuggets. "We had good chemistry together. It's always tough to lose a good point guard."
Two months later, it's not like all is perfect in Portlandia, where the team is 12-9, but it's impossible to argue the team is broken. The Blazers unleashed a new up-tempo style and hardly ever lose at home. They have been top 10 in John Hollinger's power rankings all season, thanks to wins over quality opposition like the 76ers, Nuggets, Thunder, Lakers and Clippers.
Aldridge, meanwhile, is the engine that makes it all run, playing long minutes in a condensed schedule while scoring, rebounding and getting assists at the best rates of his career. He says the team can get better, too, as he and Miller's replacement, Raymond Felton, learn how to play together. "Raymond is a really good player," the forward said. "He's so unselfish. He's going to make us better in the long run."
Despite starting the season with heart concerns, the 26-year-old hasn't missed a regular-season game and is in the NBA's top 10 in minutes played.
And those minutes are gritty. These days, his high-release jumper is only part of the story, as he's the Blazers' featured interior scorer, doing a lot of his work in the post. "Just dribbling down and making a jump hook," he explained. "That's probably my most consistent shot, and probably my favorite move."
YouTube tells the tale of another Aldridge trademark -- spinning off his man in the post to catch a lob for a dunk. He makes it look easy, but it's not something a lot of other players pull off.
He says the key is to get the defense trying to prevent a pass to him as he enters the lane. "If I duck in four or five times, and they're defending that hard, then if I spin off of them that lob is going to be there. It's more of a read of how teams are playing me. If I'm feeling his weight, and he's leaning on me, then I can spin out easier. ... It's normally from [Marcus] Camby at the top of the key. He normally reads how my guy is guarding me and then I just spin and he's a really good passer. He always puts it on point.
"It's my easiest shot."
The result is a top-10 PER -- at the moment just behind Dwight Howard and ahead of Dwyane Wade, Carmelo Anthony and Blake Griffin -- and a new round of calls that this man deserves to head to Orlando with those certain All-Stars.
Aldridge was the most widely discussed snub last year. His case this year is even stronger, thanks to his play, and the reality that a quarter of last year's team -- Carmelo Anthony, Yao Ming, Manu Ginobili and Deron Williams -- won't make the West team this year. Nevertheless, even as the Blazers lobby the media with Aldridge-themed headphones, as an inducement to promote his candidacy, Aldridge swears he is not paying attention: "I just focus on trying to win games, trying to help the team win and get better. And keep growing as a player. If that's enough to be an All-Star then great. If not then I wasn't even invested emotionally."
Really, LaMarcus? You are arguably the 10th best player in the NBA, and would not be upset at missing an honor for the top 24?
"You're talking to a guy who don't watch ESPN," he said. "Who don't read newspapers. Anything of that sort. I'm not a big social media person. I'm just playing. I probably won't get in because I'm not big on the social scene. I'm a more quiet, to-myself person. Of course it's a big honor to make the game. But if I get that whole week off, I'm not going to be mad, because my body has been going through the fire. I always play a lot of minutes, and this season even more. If I got that time off I wouldn't even be mad. ... I'd probably just go home and get some rest and see my family. I'm good either way."
The biggest challenge to Aldridge's candidacy isn't that the coaches, who pick the reserves, don't respect his game. It's that his competition is mighty. The West team can accommodate only so many forwards -- six made it last year. In addition to Aldridge, the list includes Kevin Durant, Kevin Love, Dirk Nowitzki, Pau Gasol, Blake Griffin, Tim Duncan and Paul Millsap.
Somebody deserving will miss out, and Aldridge doesn't expect the system to play out rationally. "People say I should have made it last year," he explained. "I thought I wasn't going to make it, because it's, you know, a lot of politicking and things like that.
"If I make it great. I worked for it. But if I don't, I'm going to get rest and be strong."