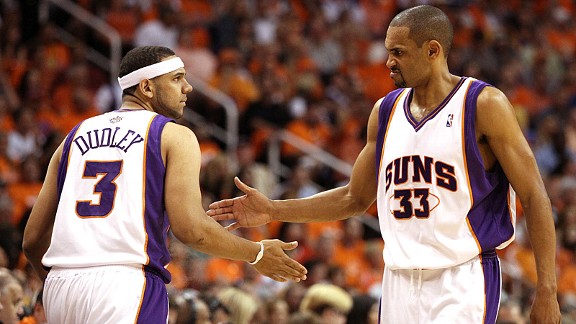 Christian Petersen/NBAE/Getty Images
Jared Dudley and Grant Hill were trailblazers when they cut the "Think B4 You Speak" spot last spring.
A friend who was horrified by Ian Parker's story in the New Yorker about the suicide of a gay Rutgers student asked me last week whether I had any kind of prescription to address bullying. I told my friend that most teenagers were congenitally insufferable people until they grew up, and barring a treatment that made them less so, any hope of getting them to stop preying on others' sensitivities was probably futile.
My response was flip, not constructive and, more likely than not, inaccurate. Chances are that if you're 18 and sitting in homeroom this morning, you and the kid next to you are far less likely to torment someone for being different. Cultural critics like to discuss the relative impact of the factors that underpin that phenomenon, but the progress is very real -- and it didn't happen by accident.
The vast amount of diverse content piped into our worlds has been vital. Everything from the early seasons of "The Real World" to smart people debunking pseudo-science on larger-than-ever platforms have done their part. Still, one read through Parker's piece and it's clear we've got a lot of ground to cover, and sculpting a message for maximum impact isn't easy.
When I first saw GLSEN's Public Service Announcement starring Grant Hill and Jared Dudley last spring, I experienced a full range of thoughts, anxieties and feelings. First, there was an intense satisfaction. Two NBA players felt deeply enough about an issue as peripheral as not using gay as a pejorative and now the entire basketball-watching nation was being educated. I'm generally not a tribal person, but I was doubly proud, perhaps more so for the basketball world than for gay people. An ad like this one wasn't conceivable even a decade ago, but now -- during the heart of the NBA playoffs -- it was inescapable, not to mention exceptionally well-produced.
But after that, I started to worry. Messaging can be so tricky, and what if this ad missed the mark? It was destined to be a hit among the choir, but what about the kids they were actually trying to educate, the ones who were most likely to say, "Your moves are so gay," on the playground? The're a certain hazard that comes with confronting a cynical generation with an earnest message. Anyone who grew up in the cable/internet era has been bombarded with carefully crafted ads, campaigns and public-service announcements during his entire waking life, and it's not difficult to imagine they'd look at a spot like this one and react the way I did when I first saw "Reefer Madness" as a teen.
Apart from anecdotal testimony, it's hard to glean approximately how effective the ad has been, but nine months after it first aired, I was very curious. That's why I went to Hill and Dudley to see what kind of responses they'd gotten since last May.
Both Hill and Dudley said the largest volume of feedback they've gotten has come on social media platforms.
"I can tell when it's been aired," Hill said because his Twitter mentions stream will fill up. "You get folks. Some appreciate, some negative stuff, too."
Dudley, who spends a lot more time on Twitter than Hill, says he'll inevitably get the "Hey, Jared, that commercial is gay," when the spot airs.
Neither Hill nor Dudley has heard from gay teens who feel affirmed by the ad, or received any Atta Boys from players around the league.
"It's not one of those things that's discussed," Hill said. "It's not one of those things that's, 'Hey, what was it like doing that?' Or, 'What prompted you to do it?' Or, 'It was courageous for you to be a part of that.' I haven't gotten any of that."
"No one ever said they were with me, but no one said they were against me either," Dudley said.
Hill, in particular, said he participated not so much to change attitudes around the league. In fact, he's not all that convinced that there's much players can do to influence each other on the issue.
"In mens' basketball, it's still one of those things that's taboo," Hill said. "Maybe because I've done this, guys are reluctant to say it around me. I don't know."
Hill isn't self-congratulatory, but he uses proud and courageous as characterizations, markers that say less about Hill's self-regard and more about how far the NBA still has to travel on the issue.
"Maybe if I were younger, I might not have had the courage to do it," Hill said. "But as a parent, as an example for my kids and their friends, I'm not afraid to do that and I was honored they asked me to be a part of it. And I respect Jared, because he is a young guy."
I've always maintained that teams and leagues, rather than individuals, would lead on this issue. It's not a coincidence that a single organization produced the first out gay executive, provided the league with the two athletes who'd star in the first gay-positive PSA that would air incessantly during NBA broadcasts for the better part of a year, and have another, Steve Nash, who'd cut an ad for marriage equality.
"As a player, [the Suns] are an organization with a lot of freedom," Dudley said. "How you talk, freedom of speech. The organization is supportive."
It's impossible to measure whether an ad like this one has changed behavior on basketball courts across the country -- or even if behavior on basketball courts actually influences attitudes outside the lines. Until there's an out gay basketball player, whether it's one who comes out during his career or comes up through the amateur ranks as a self-identified gay kid (an outcome I think that's more likely for reasons Hill has essentially outlined), we probably won't see anything like a breakthrough.
But I do know one thing: If that day came tomorrow, there's one locker room and organization in the league where he'd feel most comfortable. Tolerance is a cultural matter but, for the guy who has to make history as the first openly gay ballplayer, it's fundamentally a workplace issue.