LOS ANGELES -- Is this it? Is this Chris Paul?
It's the third quarter in my first basketball game I've ever witnessed at Staples Center and, while most of the play here has been mucked up by miscues and misfires, the highlight machine in Lob City -- or, as the shrieking patron directly behind me calls it, "Dunk City" -- is chugging along with the horsepower of a jet engine against the visiting Washington Wizards. Not even DeAndre Jordan is safe from the slam fest, as Blake Griffin inadvertently put his pal on a poster, throwing down a Jordan miss that hung in front of the rim, just begging to be included in the nightly "SportsCenter" package.
Only, something seems off with Paul. (And veteran Clipper watchers agree.)
This isn't the Chris Paul that I've stayed up 'til the wee East Coast hours just to catch a glimpse of, the Paul that pulls on the strings of the Clippers offense like a puppeteer, the one that knifes and prods and pick-and-rolls his way past, through and around every defense thrown at him, for six-plus NBA years.
Amidst the virtual draft combine's worth of premier athletes on display -- with Jordan and Griffin crashing down on the rim, with John Wall racing through the lane like a Ferrari, with JaVale McGee looking fresh out of the Mattel factory – Paul fades into the background.
This isn't Chris Paul.
And he knows it.
"We missed a lot of open shots, especially me," Paul says postgame.
I've driven almost 3,000 miles, over the course of five tireless days, listening to countless back-in-my-day tales from father -- ranging from stories of his life-altering trip down south when he was my age to the differences between Coca-Cola and store-brand cola -- to relocate to the West Coast and only one thing has dominated my thoughts.
Well, two, actually: Sample a burger from the world-famous In-N-Out and see Chris Paul play up close -- a ya-gotta-see-it-up-close-to-appreciate-it sight right up there with the Grand Canyon, I'm told (the meaty player, not the meat).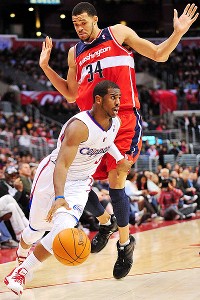 Gary A. Vasquez-US PRESSWIRE
After struggling early on, Chris Paul tore through JaVale McGee and the Wizards late in the fourth.
So far, neither has lived up to the hype. (For the record, the Grand Canyon was quite lovely.)
In 26 minutes, Paul, usually a bastion of efficiency, has nine points on 4-for-13 shooting. The assists (seven) are there, but so is the Gatorade jug behind the home bench.
Is it an injury?
Paul appeared to tweak his wrist in the early going, limiting him to just over six minutes in the first quarter.
Nope. Just a false alarm. Nothing there.
Is it the post-travel hangover?
The Clippers are finally back in front of their trendy, er, friendly home crowd after giving up their playing space for six straight games so the Foo Fighters can teleport in from 1995 to receive an award for, I'm assuming, career achievements in facial hair.
Nah. None of the Clips are buying that one.
Is it me? It's me, isn't it?
Just as I'm about to call my analyst, Paul juts to his right off a Blake Griffin screen, spots up and drills a 3 from the top of the key to increase the Clippers' now-gaping lead to 14 with 3:51 left.
On the next Clippers possession, Paul weaves his way around a Jordan screen at the foul line, hesitates slightly to freeze a ready-to-pounce Trevor Booker and goes right around him for an easy lay-in.
Next possession, more Paul. With Jordan setting the screen again, Paul drifts to the right baseline and three Wizards surround him. But before they can get close enough, Paul cuffs the ball like a jai alai player and lofts it up, right over the rim and right to the outstretched right arm of Jordan, who slams it in, eliciting a short hum from the rim that can be heard here in Staples more often than Drake tracks (trust me -- that's a lot).
We're not done yet. On the next trip down, another Jordan screen leaves McGee with the task of trying to slow Paul down. The bouncy, 7-foot center hops twice to his right, trying to impede his path, but gives up soon thereafter, throwing up his hands to mime defense and watching Paul as he sails to the rim for another easy two.
Four straight possessions, four straight masterful Paul plays, totaling nine points. A two-point game 10 minutes ago is now an 18-point drubbing.
One more Nick Young 3-point heave clanks off the iron and the Clippers pull their starters.
Paul finishes with 16 points on 7-for-17 shooting, nine assists, three rebounds and only one turnover.
His work here is done.
"That's what he does," Mo Williams said.
OK, I'm pretty impressed.
Justin Verrier is an NBA editor for ESPN.com. Follow him on Twitter.