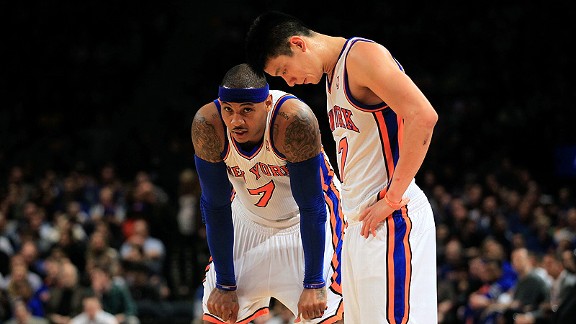 Chris Trotman/NBAE/Getty Images
The Knicks' season has had twists, turns ... and even more twists.
One month ago, on Jan. 21, the Knicks had lost five straight games heading into a Saturday matchup with the Nuggets. Razor thin, hobbled and without a true point guard at the helm, most believed the showdown would come to be a judgment of sorts on Carmelo Anthony and his long snake-bitten franchise. Jim Cavan, a writer for TrueHoop affiliate KnickerBlogger, covered the game.
More than anything, it felt like I was headed to an execution.
Losers of five straight, the Knicks' already fragile, lockout-shortened season had -- by late January -- morphed into a dire downward spiral. Weeks away from the most unlikely of athletic ascensions, hope had given way to Hell in the Garden. As such, their Jan. 21 showdown with the Nuggets had assumed a level of intrigue at odds with your run of the mill, dead-of-winter, cross-conference NBA game.
Nearly a full year on from one of the most drawn-out and controversial trade operas in recent memory, the combination of Denver's endearingly scrappy success (29-12 since the Melo trade, at that point) and the Knicks' mesmerizing struggles had suddenly transformed the meeting into something resembling a capital punishment trial. Seldom purveyors of patience and perspective, Knicks fans, if they couldn't get a W, would likely settle for heads.
For perhaps the first time in his eight-year career, Carmelo Anthony -- on this stage, anyway -- was the defense. He asked for this. He was the one who forced his way to Manhattan. Some would say clumsily, given the depth and flexibility sacrificed and square-peg-to-round-hole logic of pairing two stars so redundant in both beauty and moles. Now, facing the team that had so seamlessly moved on from the era Melo in effect defined, the chickens were coming home to roost -- one, seven-foot rooster (Danilo Gallinari) in particular.
I'd attempted more than a few mettle-mauling seven-hour drives into the city (it's supposed to take four and a half) over the preceding few months, so this time I decided to drive to New Haven and take the train in from there. Even though I was coming from New Hampshire, making the 3:50 train -- slated to arrive at 45th Street a little after 5:30 -- was a given, near blizzard conditions be damned.
But, as with the Knicks themselves, even the best-laid plans often end poorly, albeit predictably so: An accident outside of Worcester on I-495 -- and the subsequent two hour, cigarette-heavy delay -- made me 10 minutes late for the 4:50. I had no choice but to hop the 5:50, which would put me into Grand Central right around tip-off. Sandwich angrily inhaled, I bided some time with my editor, KnickerBlogger founder Mike Kurylo, wondering over the phone whether being late to pick up my credentials would be grounds for refusal of entrance. He laughed.
I was going to watch the Knicks. Why would anything go right?
With the train docked -- on time for most, sickeningly late to one -- I double-timed it through the ice-packed Manhattan streets to the MSG media entrance along 8th Avenue. Now inside, the press pass gatekeeper held the lone remaining credential -- mine, and my first ever -- aloft the way a marathon volunteer would hoist a lukewarm cup of water for the guy in dead last. Wielding it like a cross between an FBI badge and a firearm, I blew past half a dozen ushers and security guards until I found myself directly behind the first section of courtside seats.
Mired in apoplectic rage for most of the last five hours, I stopped to absorb the moment. I'd been to my fair share of NBA games. But I'd never been so close to the squeaking shoes, the sweat, the voices and movements and flailing limbs. Like a child, I stood there motionless, mouth agape and mind fast-forwarding through endless hours of memory tape, while the stage, flush with ghosts and footprints, played its act. In the 90 seconds before security politely asked me to escort myself up to the 300-level press box, I felt closer to a genuine meditative state than I ever have in any attempt at actual meditation -- a moment made all the more surreal by Bill Walker tossing eight of his 13 first-half points directly into what felt like my eyeballs.
I trudged up to find the northern press section, at this point mostly vacant. Before long, LoHud.com blogger extraordinaire J.R. O'Grady sought me out, promising he'd do his best to show a noob the ropes. KnickerBlogger hadn't given me anything resembling a set assignment. As such, it was extremely difficult to pull back from a fan's natural mechanics and focus on getting a story down.
The Knicks -- playing their fourth in five -- managed to stave off what many believed would be an inevitable blowout. But an ankle and wrist-hobbled Carmelo Anthony struggled, forcing the issue early and often, each ill-advised hoist kicking up the arena's angst another couple decibels. Meanwhile, Gallinari was in full payback mode, which only added to the Garden's already tense, uneasy atmosphere.
To someone who questioned the wisdom of the Melo trade as much as anyone, Gallo's performance was equal parts lament-filled and maddening: "Where the hell was this the last three years?" I thought. I'm pretty sure I wasn't alone. Everywhere you looked, jaded fans sported Gallo's once omnipresent No. 8 with equal parts pride and nostalgic protest. Here he was, the 18-year-old kid D'Antoni had once called the greatest shooter he'd ever seen, assuming a degree of leadership and murderous instinct once enjoyed only in flashes.
Regulation gave way to overtime, and overtime to a second. The Knicks' offense -- its lack of consistent point guard play by now a fatal flaw -- was putting up points almost in spite of itself. Noticeably drained, the 'Bockers eventually succumbed. Anthony would finish with 25 points on 30 noticeably pained chucks. The crowd, eager for a scapegoat, had $80 million of them wearing No. 7. In contrast, Gallo, in perhaps the finest overall performance of his young career, poured in a career-high 37 on 19 shots, to go along with 11 rebounds.
The trial was complete; the judgment laid down in persistent boos. The 20,000-strong jury marched down and out and into the streets and subways, while O'Grady and I headed down to the lower press room, where stale brownies and sandwiches lined the foldout tables and reporters waited idly for Mike D'Antoni's requisite Q&A. Never one for demonstrability, the Knicks coach -- recognizing as he must the heat beneath his seat -- answered the pointed questions, almost all of them relating to Anthony's poor performance, in as measured a manner possible. Ditto the inconsistent defense; the poor shooting; the lack of true leadership. Really, it's all he could do.
We dozen or so scribes filed towards the locker room, by then occupied by but two Knicks: Josh Harrellson -- whose third quarter wrist injury would result in the Knicks making the most fateful D-League call up in league history two days later -- and Carmelo Anthony. Naturally, all flocked to the Knicks' supposed savior, seated in a slight hunch facing his locker, slowly peeling pieces of tape from wrist and ankle. For what felt like an hour, Melo said nothing.
Finally he stood, lower torso toweled, and cut through the confused mass towards the showers. Apparently, this kind of behavior was rather unusual, as it constituted most of the conversation in the lull before Tyson Chandler and Amare Stoudemire's respective arrivals. Never ones for curls, my forearms and shoulders ached from holding the voice recorder over the mass of heads, a string of platitudes -- some expected, some candid -- ringing forth from both.
We'll figure it out. I refuse to be part of a losing team. We'll get 'em next time. We just need more time.
Anthony eventually returned to dole out a string of confessions -- Am I shooting too much? Am I doing something wrong? Am I not being a leader? -- theretofore unspoken. Maybe he's finally getting it, we all thought. Which says more about the state of the team that weekend than perhaps any of us were willing to admit -- that we'd been reduced to hanging hopes and prospects on words, and mere suggestions of change.
Nearly four decades removed from the last Knick title, the team seemed perhaps further adrift than it ever had from the ethos that anchored those teams: Play together, and find the open man. That was a team. This? This was a collection of 13 guys who, despite playing in a system more conducive to any to those halcyon principles, were far too often charting their course to one flawed, hazy star.
Afterwards, a few fellow Knicks writers met up with O'Grady and me at a nearby bar, where beer and bourbon turned bloggers briefly into GMs.
Shumpert's just not a point guard, and I don't even know if he should be starting.
We need Baron back, like, yesterday.
If Melo shoots 30 times in a game again, I might move to Brooklyn.
I knew it might be rough, but who thought it would be this rough?
That's the third Bon Jovi song in the last 15 minutes.
Around 1:45 a.m. I made my way back to Grand Central with the aim of catching the next available train back to New Haven. The night's events still had me fully wired -- why not use the 90 minutes ride back to get some words down, I thought. I knew there was a 2:10 train because I'd looked it up no less than an hour before. Since when does the Internet lie?
When I reached Grand Central's 45th Street entrance, only to find its doors had closed mere minutes before, the day's events hit me like a ton of bricks. I felt suddenly exhausted, no longer capable of dealing with failure of any kind. I'd failed getting to the game on time; my team had failed to ward off the ghosts of its own making; and I'd failed -- apparently -- to read Grand Central's fine online print. I traced my steps back to a Holiday Inn Express, footed $100 for what would amount to a five-hour stay, trudged up to my room, opened the door, and collapsed on the bed. My right heel sore from so much walking, I removed my loafers, only to find the back of my right sock caked in blood. I took off the sock, hit the light, and passed out in less than five seconds -- the next five hours dreamless black.
Not long after Saturday's demoralizing marathon, the Knicks put in a call to the Erie BayHawks. With Harrellson's injury further thinning an already depleted squad, and determined to save their cap room for one of two China-stranded stars (J.R. Smith, ultimately) they needed reinforcements. Cheap ones. Jeremy Lin -- fresh off a triple-double in his first and only D-League start, undrafted the year before and cast aside by both the Warriors and Rockets in the interim -- would have to be that.
Sunday morning, showered but hardly clean, I limped back to Grand Central in time to catch the 10:07 back to New Haven. Seated facing backward, we ascended North through the city, past Midtown and Harlem and eventually out of Manhattan. As the train slowly gained speed, that unique feeling of reverse acceleration -- a kind of horizontal rapture through man's concrete idols -- struck me as apt: Like the Knicks, I was moving faster and faster in what felt like the wrong direction.
Like the Knicks, I sensed the gravity of the city dissipating, its pull and passion fading; my hope for timely arrival had given way to that for simple survival.
Like the Knicks mere days later, I just hoped I bought the right ticket; that the train would take me where I needed to go.
Little did we know.
Follow Jim Cavan on Twitter at @JPCavan