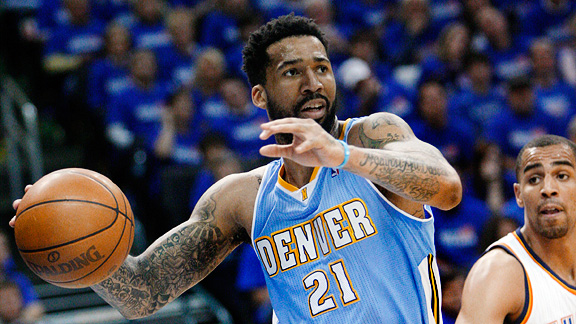 AP Photo/Sue Ogrocki
With a five-year, $37 million deal in hand, Wilson Chandler is back in Denver's fold.
No more communicating with teammates through a translation app on his iPhone. Wilson Chandler, the first of the three Denver Nuggets to sign with a Chinese team during the lockout and the last to return to the NBA, is back in Denver.
When labor negotiations were at their bleakest he signed with the Zhejiang Guangsha of the Chinese Basketball Association, even though the Chinese league did not allow escape clauses should the lockout be resolved. And when agreement was reached in time to re-start the NBA on Christmas day, all Chandler could do was follow from the other side of the world.
"At first it was tough," Chandler said. "I was sitting there like, 'Man.' When Kenyon [Martin] left and got to play, that's what made it really hard."
Martin left China in December, but wasn't cleared to rejoin the NBA until February. He signed with the Los Angeles Clippers on Feb. 3. On Feb. 17, J.R. Smith signed with the New York Knicks. Chandler was cleared on Feb. 26, but his return was further complicated by the fact he was a restricted free agent (unlike the other two, who were unrestricted). That meant that any team besides the Nuggets had to sign him to at least a two-year offer, while Denver had the right to retain his services by matching.
It also represented his first contract negotiations under the new collective bargaining agreement, which his agent Chris Luchey described as "Very different. Much more difficult." There were flirtations with the Toronto Raptors and talk of signing in Italy, before Chandler and Luchey headed to Denver for face-to-face negotiations that resulted in a five-year, $37 million contract hammered out over nine days.
"Wilson always had interest in Denver," Luchey said. "He just wanted to get a long-term deal."
In exchange, Denver well get an improved version of Chandler.
"I think I learned to be a better teammate," Chandler said. "More vocal. When I was here before, I never was vocal before."
Chandler, who never averaged more than 15.3 points per game in four NBA seasons, averaged 26.6 points in China. Perhaps that experience of being The Man in China can help out a Nuggets team that has searched for an assertive player in crunch time ever since they sent Carmelo Anthony to New York in the trade that first brought Chandler to Denver.
Chandler enjoyed the camaraderie in China, where teams seemingly have every meal together. But there's nothing like the NBA.
"Just being around the players I grew up playing against and watching them play," were what he missed about the league. "The competition level."
He only has 20 games to get back to NBA speed as the Nuggets, who currently occupy the seventh spot in the Western Conference standings, push for the playoffs. It's a younger, more athletic team than the one he left thanks to the trade deadline deal that sent Nene to Washington and brought in JaVale McGee.
And it's worth noting that Chandler is the only one of the three Nuggets who went to China who is back in Denver.
"It says they want me," Chandler said. "Masai [Ujiri, Denver's general manager] was pretty aggressive before I went to China. I'm glad to be here. They wanted me to be here. I'm glad it worked out."