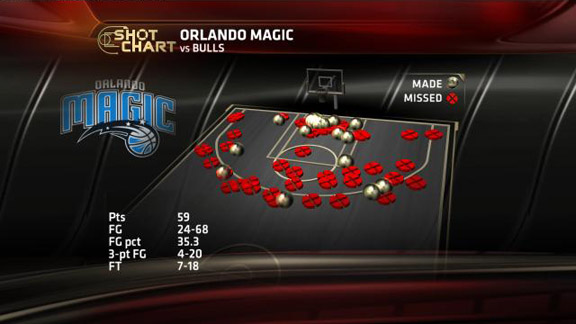 The Magic had a terrible shooting night in their loss to the Bulls.It seems appropriate that Chicago Bulls coach Tom Thibodeau, known as a defensive whiz, became the fastest head coach to 100 wins with a game that will live among the team's best-ever defensive performances.
The Bulls set a regular-season team record for the fewest points allowed in a game, yielding only 59 to the Orlando Magic.
The Elias Sports Bureau noted that Thibodeau got to 100 wins in 130 games, one game faster than Avery Johnson did. Thibodeau was also the quickest Bulls coach to 100 wins with the team, a dozen games quicker than Phil Jackson.
On a night in which the Bulls were without Derrick Rose, they were paced by Carlos Boozer's 24 points. Boozer averaged 11.3 points and 8.0 rebounds on 40 percent shooting in his first four games against the Magic as a member of the Bulls, but in his last three, he's averaged 23.3 points and 11.0 rebounds on 58 percent shooting.
Bulls Fewest Points Allowed
In Regular-Season Game
Orlando had significant issues in catch-and-shoot situations on Monday night. The Magic were 4-for-19 on such shots against Chicago.
They are not the first opponents to struggle against the Bulls on those sorts of shots. Bulls opponents are shooting 36 percent on catch-and-shoot shots. The resulting 0.88 points allowed per shot ranks second-best in the NBA (the Celtics are a hair better—0.87 points allowed per shot).
Holding Orlando to that sort of shooting performance is not easy. The Magic rank fourth in the NBA in points per catch-and-shoot shot.
The Magic made their own dubious mark, as Elias noted that they joined the 2002-03 Denver Nuggets as the only team in the shot-clock era (since the 1954-55 season) to score fewer than 60 points twice in a game in a single season. The Magic were held to 56 points by the Celtics on January 23.
The Magic did help the Bulls out by going 7-for-18 from the free throw line. The Magic's 39 percent effort was the worst for any team that took at least that many attempts in a game in the NBA this season.
It was also the second-worst free throw shooting performance in Magic team history.
The Bulls did arguably have one defensive game more memorable than this one. They allowed 54 points to the Utah Jazz in the 1998 NBA Finals. That season ended with the team celebrating a championship.