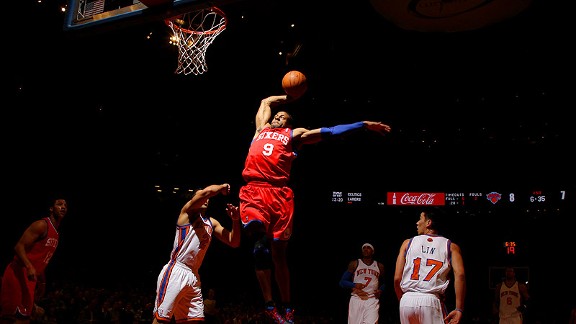 Nathaniel S. Butler/NBAE/Getty Images
Spectacular dunker? Lunch-pail defender? Go-to guy? What exactly is Andre Iguodala?
On HoopSpeak, Tom Sunnergren does a masterful job digging into one of the NBA's enduring mysteries: Andre Iguodala is the best player on a really good team, but what exactly is he? It's a tough question, frustrated by plenty of misdirection. Sunnergren writes:
In recent weeks, as public opinion has tipped tentatively in his favor, TV color men have fallen into the habit of sharing this biographical nugget about Andre Iguodala: as a Bulls fan growing up in Springfield, Illinois, his favorite player wasn't Michael Jordan but Scottie Pippen.

This is meant to be an instructive detail about Iguodala. The guy he idolized wasn't the gravity-defying superstar, but his enabler; a blue-collar grinder who operated in the (comparative) trenches and relished not the big stage or the bright lights, but the thankless task. His hero, the player he patterned himself after, was a man who celebrated his greatest moments in the shadows of others.

It's a window-into-the-soul type anecdote. A glimpse of something essential to a man who's defied deconstruction. It explains everything.

Except it isn't true.

Andre Iguodala's favorite player was Michael Jordan.