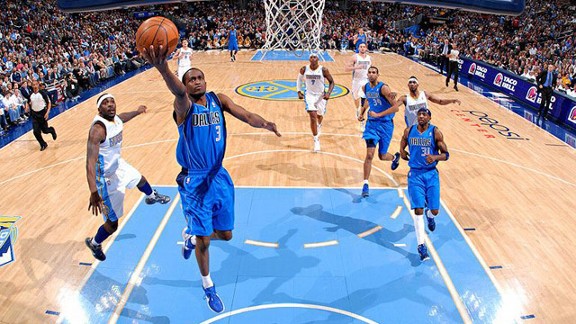 Garrett W. Ellwood/Getty Images
Action. Ball movement. Speed and creativity. Basketball at its best.
Monday night the Dallas Mavericks demonstrated what HoopIdea is all about.
In a word ... fun.
The game flowed, back and forth. The ball moved beautifully up and down, side to side, in and out. Despite the Nuggets' best effort, the Mavs spaced the floor and continually found open men, for 33 assists on 45 buckets. Players ran, cutters cut, everyone passed and shots fell.
The Denver fans were in the game too, because their Nuggets were also racing down the floor, cutting and dishing. For much of the game, the crowd was making the whoosh-whoosh sound more familiar to great tennis rallies.
After the game, Dirk Nowitzki testified, "We're really shooting the ball well, moving the ball. It's fun to play out there. When we were doubled, we passed it out and we made shots. It's a fun way to play if everybody touches it."
Coach Rick Carlisle couldn't hide his pride and joy in his team's ball movement: "It was one of the smartest played games I've seen in the league all year long. Very disciplined, aggressive, but not frantic and moved the ball the way we had to."
This is one of the bigger goals of HoopIdea: to encourage a style of play that (a) is well coached, (b) gets more players involved and (c) allows talented players to do their thing.
Fun to play, fun to watch ... that's what basketball should be.
We want your ideas on how to make it so.
JOIN THE CONVERSATION
Give us your ideas and talk with us and other fans in the following places: