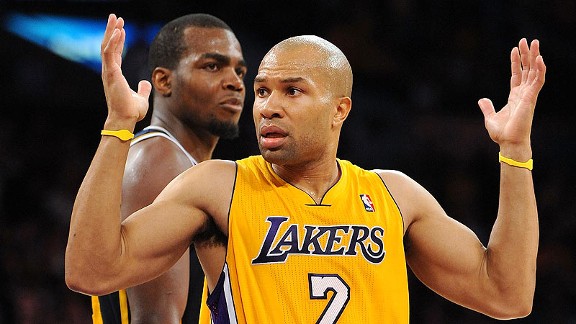 Lisa Blumenfeld/NBAE/Getty Images
Don't blame Fisher if the flopping annoys you. He's just playing the game.
Derek Fisher's omission from the 2012 All-Flop Teams (though he was named as a vote-getter) was a consistent source of complaint on Twitter. That's not too surprising -- perhaps more than that of any other player in the NBA, Fisher's game is defined by flopping ... or, if you're a Lakers (and now Thunder) fan, by his savvy and "intangibles."
Fisher owns one of the all-time unremarkable statistical profiles for players who have logged starter's minutes on numerous championship runs. Yet during that time many viewed him as indispensable to the Lakers' success because of his leadership on and off the court -- he even reportedly calmed down Kobe Bryant after Bryant nearly single-handedly shot the Lakers out of Game 7 of the 2010 Finals.
But the "intangibles" that define his reputation in the eyes of many extend beyond his ability to keep everyone -- from teammates to an entire players union -- on the same page.
Fisher is crafty, and basketball is his craft. He understands the NBA game inside and out and thus maximizes his impact by exploiting the system in every way he can. So while his sometimes egregious floppery may offend some viewers (and opponents), the goal of a game is to win, and any player who is not willing to flop is essentially playing with one hand behind his back.
Knowing how referees see and call games gives Fisher an advantage he's happy to use to help his team.
But it's important that we distinguish between Fisher's legitimate charges, of which he's taken many, and his out-and-out flops. Fisher acts with all the subtlety Jim Carrey brought to "Liar Liar," but he also understands that planting your feet, absorbing contact and falling over is an invaluable defensive weapon in the NBA.
It's different from flopping, which is about creating the illusion of contact. When Fisher plants his feet in front of an opponent charging toward the rim on a fastbreak, he sets himself up to fall, and therefore to earn a (legitimate) call.
If Glen Davis plants his feet (without stepping backward), Isaiah Thomas, the Kings' diminutive point guard, can easily knock him down. The rules as called do not reward backpedaling -- they reward planting your feet and falling down. It takes a relatively light blow to create this effect, especially when a guy is flying into your chest.
Though they may be embellished, those particular Fisher falls aren't fake.
Of course, it's not only the more legitimate (if embellished) plays that make people angry about Fisher's falls.
Fisher has a full flopping portfolio: (1) For years, he has specialized at the defensive jujutsu of getting up under opposing point guards, like a limbo dancer, and getting the call; (2) when going around screens, Fisher flails like a pro wrestler who's just been smacked by a folding chair; and (3) on drives toward the basket, Fisher often does the cannonball maneuver, in which he throws himself into the body of a vulnerable defender without regard for the ball and hoop. It's clever enough stuff, and it works.
Fisher's new coach, Scott Brooks, recently said Fisher "has winner all over his DNA." Whether or not you agree, he's certainly a player who has worked hard to figure out how to exploit the loopholes of the game.
We at HoopIdea respect that, but we also want to close some of those loopholes that diminish the beauty and fair competition of the game. Players standing still in order to be knocked over or flailing around like they've been tased defy basketball's spirit of movement, athleticism and fair play.
For all he's contributed to the science of flopping, we salute Derek Fisher, Flopper Emeritus. But we also hope HoopIdea can help rally some momentum to change the system he so expertly exploits.
JOIN THE CONVERSATION
Give us your ideas and talk with us and other fans in the following places: