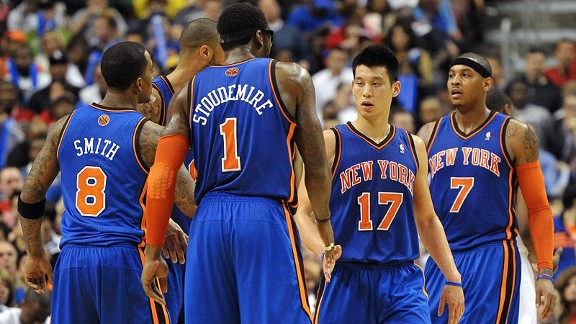 Drew Hallowell/NBAE/Getty Images
Jeremy Lin showed again, against the Sixers, that he is not afraid to call his own number in crunch time.
Howard Beck in The New York Times on the Knicks' win over the Sixers, which featured Jeremy Lin scoring the last eight Knick points in a close game:
The game came down to defense, grit and Jeremy Lin's unwavering self-confidence on a difficult night.

Lin had 16 points in the fourth quarter -- after shooting 1 for 11 in the first three periods -- and scored the Knicks' last 8 points, all from the foul line.

"It's just a credit to my teammates, how they kept the game close for me," he said. "Man, the way they defended was unbelievable."
I read it once. I read it again.
And I simply could not get past it. The kept the game close ... "for me?"
I wasn't there. I didn't here his intonation. I'm not going to pretend I know what he meant by "for me." It may have meant something selfless, like "despite my bad shooting."
But it also sounded just a little bit like a cold-blooded crunch-time killer. A little like Kobe Bryant. A little like: Of course the ball's going to be in my hands at the end kind of way.
Which is not the craziest idea out there.
Ever since he waved off a coach, a teammate and a playcall before hitting the biggest bucket of his life -- that game-winning 3 in isolation in Toronto -- it has struck me that in terms of crunch-time temperament, Lin is as much like Bryant as anyone.
They are both standouts of work ethic. Both, I sense, feel they have worked too damned hard to entrust the results of close games to chance. Each knows he has put in the time and is prepared to do what needs to be done.
At the end of close games, on offense in the NBA, and in defiance of the evidence, that almost always means dominating the ball.
Just to test the idea that Lin and Bryant are similarly ball dominant in crunch time, I fired up NBA.com's fancy secret new stats tool, and found Lin does like to have the ball in his hands in crunch time, almost as much as Bryant, who is an all-timer in that regard.
In the final five minutes of games within five points, Bryant's usage rate is a high 42.4. Lin's is close behind, at 36.6 -- higher than, say, Chris Paul's 33.9, and in the same range as Kevin Durant (40.1) and Carmelo Anthony (43.5). You might say that's heady stuff for a player whose coach keeps reminding people is effectively a rookie.
But also worth noting is that in these short minutes -- Lin has played just 39 that qualify -- he has had the best true shooting percentage of the bunch. He has taken 24 shots in 39 crunch time minutes, and hit only nine of them. The secret to his efficiency has been that he has made three of his five 3-pointers, while getting to the line an impressive 18 times, while missing just two. The result is a true shooting percentage (a measure that accounts for 3s and free throws) of 58, compared to Paul's 57.2, Durant's 53.8, Anthony's 43.5 and Bryant's 42.7.
Such small samples don't predict anything -- I'm not saying Lin's a better crunch-time scorer than anyone, looking forward. But looking back at the scant crunch time minutes he has played this season, thanks to that big 3 in Toronto and all those free throws, Lin has called his own number a ton, and has nevertheless scored efficiently.
Don't be surprised if he keeps putting it on himself to create Knick points late.
Ask any superstar, though, and they'll tell you that would be surprising is if he can maintain that 58 percent true shooting percentage with a high usage rate if and when the whole defense starts tilting his way.