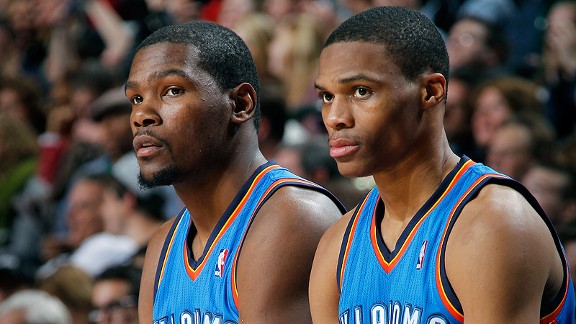 Glenn James/NBAE/Getty Images
Kevin Durant and Russell Westbrook are impressive but not the only reasons to like OKC's chances.
Editor's note: The growing consensus is that Sunday's showdown between the Oklahoma City Thunder and the Miami Heat (ESPN, 8 p.m. ET) is a likely preview of what's to come in the Finals. If that's the case, who would win it all? Royce Young of TrueHoop Network's Daily Thunder states his case for Kevin Durant & Co., while Tom Haberstroh of Heat Index lays out five reasons why the Heat will triumph in June.
1. Durant and Westbrook are figuring it out
So much has been made about the Thunder's super duo. Whether they like each other, whether they can coexist, whether Russell Westbrook's a ball-hog who is jealous of Kevin Durant's spotlight and on and on, what's been mostly overlooked this season is that Westbrook and Durant seem to really be figuring out how to play together.
Their off-court chemistry has always been far better than most realize, but it's finally starting to show on the court. Westbrook is beginning to really grasp when it's time for him to assert himself in big moments and when to step away. Durant is more of a facilitator this year than he's ever been, averaging a career high in assists. And while Westbrook's usage rate is higher than Durant's overall (30.2 to 28.4), in the clutch Durant's usage jumps Westbrook's (42.8 to 35.3).
Both are extremely good crunch-time players, mainly because both can get their shot almost whenever they want it. But there's been very little on-court tension between the two the past two months. Darker days are surely ahead, but in terms of OKC's Batman and Robin, they're playing as well together as they ever have before.
2. Deep team just got a little deeper
There was a case to be made that the Thunder were the deepest team in the league prior to Eric Maynor's knee injury. OKC's vaunted second unit took a major hit after that, as rookie Reggie Jackson, while acceptable, wasn't quite the weapon Maynor was off the Thunder bench.
But with the addition of Derek Fisher, who is old, slow and not great, the Thunder have restored a bit of what made that second unit so good. It's really led by likely NBA Sixth Man of the Year James Harden and has a glue-guy, charge-taking, plus-minus superstar in Nick Collison; a 3-point specialist in Daequan Cook; and back pocket items such as Royal Ivey's lockdown man-to-man defense.
That's really what separates the Thunder from a team like the Heat. Miami doesn't have a James Harden. Duo versus duo, it's close between LeBron James and Dwyane Wade and Durant and Westbrook. The Heat obviously have Chris Bosh, and while Serge Ibaka isn't in that ballpark, the Heat most certainly don't have a change of pace creator/distributor/scorer like Harden. In truth, while Westbrook and Durant will be the horses that carry the Thunder, Harden might be the key to them getting to the promised land.
3. They don't rely on an offensive system to score
It's a fascinating thing. We're talking the best NBA offense in terms of points per 100 possessions, but the worst team in the league in terms of assist rate. How does that compute?
It's simple: The Thunder isolate their super-talented scorers in space, allowing them to play largely one-on-one basketball. The Thunder don't move the ball a ton but utilize a lot of pick-and-rolls to create space to isolate Durant on the wing, Westbrook in attack mode or Harden in a creative situation.
It might not seem as such, but it's something that has the Thunder more ready for the pressure of playoff defense than ever. In the Western Conference finals last season, OKC had issues in the half court because Durant needed to get the ball on the move, coming off a pindown screen and curling into a jumper. Unless it was scoring in transition, the Thunder's offense was bogged down and became completely stale, relying mostly on Westbrook to create something out of nothing. This season, Durant is scoring more unassisted than ever (47.8 percent assisted, down from 62.4 percent last season). That translates well for the Thunder going into the playoffs. Durant can get the ball and score without having to have the Thunder's offense create something for him, whether that's Westbrook, Harden or someone else.
4. They defend when it matters
John Hollinger wrote about clutch defense and how one of the league's best defensive teams, the 76ers, plays terrific D except in crunch time. The Thunder are almost the exact opposite.
The Thunder are middle of the pack in terms of defensive efficiency, except when it comes to the last five minutes of a close game. For almost this entire season, OKC has been ranked No. 1 or 2 in points per 100 possessions in the final five minutes of a game with a margin or five or less, allowing about 86 points per 100 possessions. That's almost 20 points per 100 possessions fewer than they average the rest of the game.
The point is, OKC's defense is pretty average, except when the Thunder really have to crank it up in a close game and get a stop.
5. Matchups and versatility
The Thunder are unique in that they can match up with virtually anyone, while also presenting matchup problems for a whole lot of teams. OKC can go small with Durant at the 4, go big with Ibaka and Kendrick Perkins, or even go super-small with Durant at the 5. OKC can really interchange parts, and with a deep bench with versatile players, all with a lot of length, the Thunder aren't going to be caught in many situations they aren't equipped to handle.