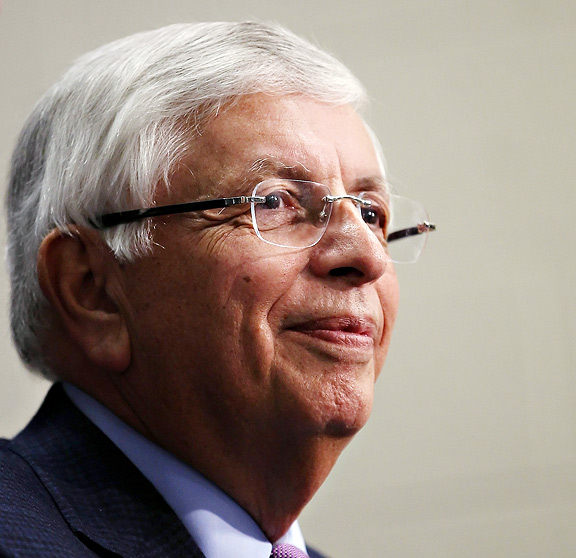 Christian Petersen/Getty Images
In Phoenix Tuesday, the commissioner said he has long wanted to change goaltending.
One HoopIdea that's been debated and quarreled with since we raised it on March 12 is the idea to free the best athletes in the world to make a play on the ball even when it's in the cylinder above the rim. Yes, we want to open the airspace above the rim for more exciting, athletic plays.
And now we know that the most powerful man in basketball is on our side.
NBA commissioner David Stern was in Phoenix on Tuesday night along with deputy commissioner Adam Silver.
In a talk with reporters you can see on Valley of the Suns (thanks to Michael Schwartz), Stern said that he has long been an advocate of opening up that airspace.
This is how they play in the D-League, the Olympics and wherever FIBA rules are in effect. It seems to lead to more exciting plays and few, if any, problems. Not to mention, as the commissioner points out, it keeps referees from having to make an insanely difficult call.
Stern explains:
My last proposal has always been -- and my first proposal, that doesn't get any respect at all -- is to eliminate basket interference. It hits the rim, adopt the European rule, it's in play.

Is the hand just over the cylinder or not? Why task the referees with that? Just do the European rule. And it will make free throw misses more fun, too. But that's not something I have been successful on dating back to when Jerry Colangelo was in charge of the committee that put in a wonderful set of rule changes that improved our game greatly.

They left one on the cutting room floor.
Why doesn't Stern snap his fingers and make it so? Because, contrary to public perception, he is not a dictator, and rule changes like this must first be approved by the competition committee, which is comprised of the 30 NBA general managers (or, if they can't make the meeting, someone they designate). Thus far, the committee has not gone for it. But that can change.
JOIN THE CONVERSATION
You can give us your ideas and talk with us and other fans in the following places: