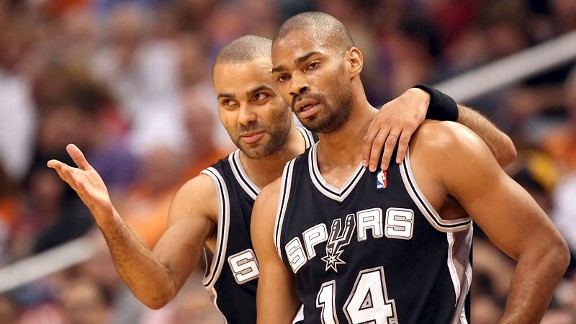 Christian Petersen/Getty Images
Watch and learn.
Witness the majesty of Tony Parker, from Tuesday's Spurs win in Phoenix. It's such inspiring work -- we have named it our first-ever Flop of the Night.
Parker sprints around a screen along the left baseline and makes the mildest of contact with Jared Dudley's arm. After brushing by Dudley, Parker goes into full-on, cartoon-style, slipped-on-a-banana peel mode.
He then does a lovely job of making the older, wiser, more trustworthy facial expressions as Dudley, understandably, freaks out.
It gets better, as 48 Minutes of Hell blogger Graydon Gordian notes. "The Parker flop was great, by the way, but don't miss an additionally beautiful part of that play, which is Steve Nash's great but ineffective counter-flop. He wasn't the guy being flopped on, but he tried to flop/fall to prevent the flop call."
Truly brilliant gamesmanship that ends with two dynamic players rolling around on the ground, nowhere near the ball.
HoopIdea is trying to Stop the Flop. And we're enlisting your support to do so. Help us make a series of TrueHoop posts where we recognize the efforts of Tony Parker and others like him.
When you see an egregious flop that deserves proper recognition, send us a link to the video so we can consider it for Flop of the Night. Here's how to make your submission: