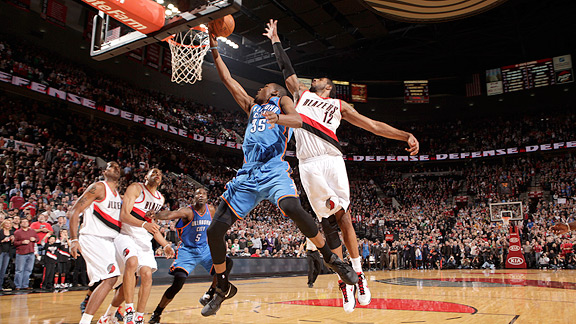 Cameron Browne/NBAE via Getty Images
According to David Stern, this missed call might end up changing the game for the better.
Credit where it's due for this HoopIdea -- David Stern.
Just a few weeks after the NBA acknowledged that an official incorrectly called goaltending on a controversial play in the final seconds that swung an Oklahoma City-Portland game, Stern said on Tuesday night that it might be time to add goaltending to the handful of calls reviewable by video replay.
In Phoenix on Tuesday, Stern said: "Our competition committee has the final word on these things, but I think there's going to be a very robust discussion about goaltending." The commissioner went on to discuss some of the difficulties with getting goaltending right, even with replay involved, as you can see on this video (provided by Michael Schwartz).
Deputy commissioner Adam Silver added: "Over time it's inevitable given the advances in technology that we'll increase our use of instant replay. We want to get it right. It has to be balanced against the flow of the game. I think when it's clear in certain cases that the viewer at home can see there was a missed call, our referees want to get it right, too. We will continue to look at it."
Stern went on to suggest that input from "fans" had played a role in the expansion of replay, saying that the league was "getting pulled along" by the momentum toward using replay to help with difficult calls.
The play in Portland was an eye-opener. Goaltending is almost always a difficult call (despite what some broadcasters and fans seem to think), and this was an especially challenging case -- as Kevin Durant drove hard to the basket, LaMarcus Aldridge trailed and then knocked away Durant's layup, just before it reached the backboard, with all the action fast and furious. From a difficult angle about 30 feet away, referee Scott Foster whistled goaltending, to the delight of the Thunder and the dismay of the Blazers and their fans. This call tied the game 103-103 with 6.0 seconds remaining, and the Thunder went on to win in overtime.
And it was a big game in a short season. The Blazers lost a tough one at home to the Northwest Division leader, the first among 13 losses in 19 games in a tailspin that cost coach Nate McMillan his job. The Thunder, meanwhile, now hold just a two-game lead in the loss column in the Western Conference, with half of it coming from the controversial win in Portland.
The next day, the NBA, via Twitter, admitted, "Close call in Portland last night but w/ benefit of slow motion replay, goaltending was incorrect call."
Stern's comments on Tuesday echoed recent comments by the NBA's former director of officials, Ronnie Nunn, on NBA TV's "Making the Call." When Nunn was asked whether the NBA could use video replay to overturn incorrect goaltending calls such as on the Durant-Aldridge play, Nunn said, "If we have more of them at critical times, it might be something to be included in the future" among reviewable calls.
Nunn also said that overhead cameras above the basket were necessary to get such goaltending calls right, referring to situations in which officials had to judge whether the ball hit the backboard before the blocked shot occurred, as in the Durant-Aldridge situation.
Keep that word in mind: cameras.
Eventually, it will probably be cameras that solve goaltending for us. At the moment, 10 NBA arenas (and counting) have been outfitted with high-tech cameras which track player movement and ball movement at 25 frames per second. While this technology is currently used to collect data that allows for more sophisticated statistical analysis of the game, it seems likely that cameras and software could be configured to help officials assess all sorts of things that are happening on the court -- and in real time or very close. In tennis, cameras are already used to determine close calls, down to fractions of an inch, and that's just a start.
There are other potential solutions -- could computer technology, such as a microchip, be placed in the ball and other places to detect when the ball is on the way down or has hit the backboard? Probably so.
But let's start with what we can solve now by reviewing goaltending calls. The technology is already too good to allow the calls to be so bad.