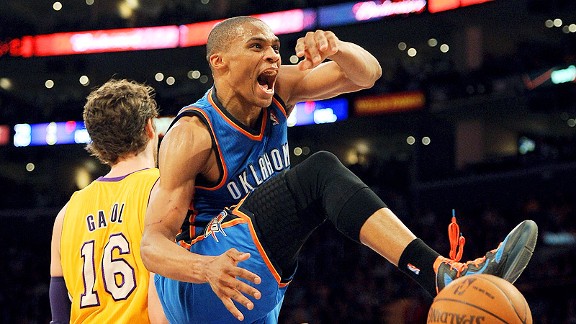 Harry How/Getty Images
Russell Westbrook spoiled all the fun that's been happening in L.A. since Ramon Sessions' arrival.
LOS ANGELES -- When Ramon Sessions arrived in Los Angeles at the trade deadline, he seemed to heal a struggling Lakers team by injecting them with something you can't find in some laboratory in Germany: fun.
In the wake of their second straight title, bodies began to age, injuries began to pile up -- particularly for their most dynamic player, Kobe Bryant, who was being held together by duct tape and gum toward the end of the season -- and the oversized frontcourt that powered them past the Celtics in the 2010 Finals was no longer just the team's strength, it became their identity as well. Showtime became Slowtime. Even with the star like Kobe, the Lakers were pretty boring.
But ever since Sessions' arrival here in Tinseltown, the fun factor has returned. The rather quiet 25-year-old point guard doesn't have much of a presence in the locker room, but he commands attention on the court, his quick bursts and dishes set to a different speed than the rest of the team.
The competitiveness of the team never dipped much, but in the five games Sessions has played at Staples Center since the March 15 trade that sent Luke Walton and Jason Kapono to Cleveland, the crowd seems to have an extra shot of adrenaline, the stadium a little extra electricity. And Sessions, playing for a team located outside of middle America for the first time in his career, enjoyed all that came with it.
But in perhaps the Lakers' biggest game since they acquired him, the team now housing the veteran leader they shipped out to clear space for the former Cavaliers 1 played the role of killjoy. Derek Fisher certainly had his moments, but more with his presence than his points (seven) off the Thunder bench. It was Russell Westbrook, the lone point guard between the two teams who hasn't experienced significant change since the post-deadline Fisher fallout, who was in charge of the No Fun Police. The hard-charging fourth-year player finished with 36 points on 13-for-27 shooting, six assists and only one turnover in Oklahoma City's 102-93 win, one in which even the joy of free taco coupons was taken away from the crowd.
"I'm glad I played my career when I played because I couldn't stop players like Russell," Thunder coach Scott Brooks said.
The Lakers held Westbrook in check in the first half, holding him to just nine points on 3-for-10 shooting. But the Thunder point guard seemed to get whatever he wanted in the third quarter, scoring 17 points on 6-for-10 shooting while L.A. could muster only 19 as a team (none of which coming from Bryant, who was 0-for-6 in the game-swinging section).
"In the third quarter he just came out, put his head down and went one-on-four and either scored or got fouled every time he came down the floor," Lakers coach Mike Brown said.
With three fouls, Paul Gasol played only 2:22 in the third, leaving a 7-foot hole in the paint. But Westbrook surprisingly did most of his damage from midrange, using the threat of his powerful drives to burn the Lakers for continually going under screens -- a usually sound strategy against the attack-focused guard, but one that's losing its effectiveness as Westbrook continues to improve his range.
After laying it in on a fast-break layup early in the third, Westbrook's next five buckets that quarter came from 13 feet and out, including a buzzer-beating shot from three feet outside the 3-point arc in which the point guard celebrated by letting out a loud scream and holstering his hot hands, each holding up three fingers.
"Kevin (Durant) and I started a little slow and the game kind of got out of whack," said Westbrook, who has been the game-high scorer in each of the Thunder's three wins against the Lakers over the past two seasons. "My job was to pick us up and do whatever we need to do to win."
With the Thunder's lead snowballing in the fourth, Bryant tired his hand at guarding Westbrook. But after keeping close outside the 3-point arc for the first few seconds of the shot clock in their first faceoff, Durant used a Nick Collison screen at the top of the key and found Westbrook all alone on a backcut for an easy bucket.
"I didn't really get much of a crack at him tonight. But, I'm looking forward to it," Bryant said. "He's one of my favorites. He's developed his outside shot a great deal and tonight he went to the post a little bit as well. So, he's ... he's a problem."
Sessions' new problem isn't the good kind to have. After reaching double-digits in five of his first six games, the point guard scored seven points for the second consecutive game, this time on 3-for-6 shooting to go along with as many assists as turnovers (five). The Lakers seemed on the verge of turning a corner into West elite territory when he arrived, winning three of their first five with him in the lineup as showing signs of that lost spark, but they have since lost two of three, with the lone win an ugly one in Oakland against the Warriors on Tuesday.
Even though he finally found a place to live in L.A. and his dog "Sesh" has arrived safe and sound, Sessions admitted that he's still trying to get comfortable in his new surroundings.
"[I'm] playing off the ball a little bit more than usual, a little less pick-and-rolls," he said. "You just have to continue to get familiar with the guys. It's only been about six or seven games for me. Just learning to get comfortable each night and playing off the ball more."
After watching Westbrook have his way with the defense, Sessions certainly has some homework ahead of him before the playoffs. And that's certainly no fun.
Justin Verrier is an NBA editor for ESPN.com. Follow him on Twitter.