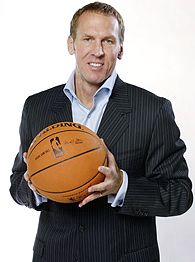 It's no secret that Bryan Colangelo is the NBA's patron saint of sartorial specificity. The Raptors GM, inspired by his fashionista Italian wife, long ago ditched the boring old look for something all his own. One of the big features is that distinctive tall collar.
In Bologna, the Toronto Star's Dave Feschuk has tracked those tall collars right to the source. They come from a small boutique called Manifatture all'Orologio:
He buys his custom-cut, French-cuffed duds in batches of 12 or 15, usually a couple of times a year when he's in town on scouting trips. The shirts are made off the premises, in a nearby village by a 60-something grandmother named Luisa. She can cut and sew approximately one shirt a day, and there is no quickening the pace of production. Though the shop employs several shirtmakers, Luisa alone fills all of Colangelo's orders in the interest of continuity.

But it is the 6-foot-3 Colangelo who designs each of his shirts. Possessed of long enough arms to make it difficult to find good-fitting shirts off the rack, he makes his semi-annual pilgrimage for lengthy deliberations over the shop's glass-topped counter. The choices are dizzying. There are about 1,000 weaves of Egyptian cotton on offer, and more than a dozen styles of buttons, from octagonal to square. The GM even picks the colour of thread for around button holes.

"It's the man who makes the clothes," says Pierluigi Stecconi, one of the shop's associates, stepping away from his duties at the buzzing shop yesterday to show a visitor the operation. "His style is very personal style, a colourful style, a very unique style. He has an idea, and he knows what he wants."
(Photo by Ron Turenne/NBAE via Getty Images)