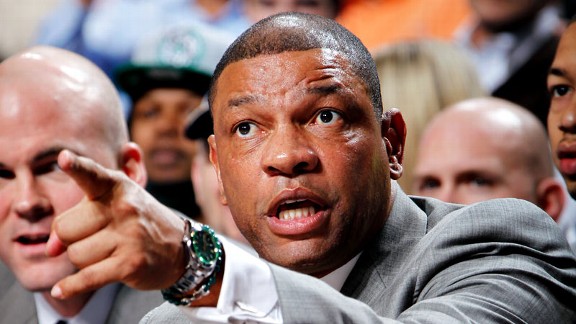 Glenn James/NBAE/Getty Images
With his son in the draft, it's not hard to guess who he'd like the Celtics to pick.
Chad Ford's first 2012 mock draft came out the other day (Insider), and it projected the Celtics to pick Kentucky power forward Terrence Jones 17th overall. Ford calls Jones is "one of those players with top-five talent who doesn't play like it on a consistent basis. That is a gamble the Celtics should be willing to take at this spot in the draft. They did the same thing a few years ago with Rajon Rondo and it paid off big."
A mere four picks later, however, Ford is projecting the Rockets to take an interesting 19-year-old shooting guard prospect from Duke. "Many scouts have been disappointed with his play," writes Ford, "and think he needs to return to Duke for his sophomore season. But a handful think he has the potential to be special thanks to his quick crossover, high basketball IQ and killer mentality on the court. At pick No. 21, the upside-to-risk ratio strongly favors the Rockets, who really need to build around some star power."
The thing is, that Duke player? That's Austin Rivers, the third of Celtics head coach Doc Rivers' four children.
Not that it'd be fair to anticipate that the coach would do anything other than trust his front office to make the call, but in all this there is certainly the potential for hurt feelings.
You might say to yourself, well, can Austin really hope to be picked that high? And the answer is: Austin is on record as saying that he hopes to be off the board before Boston picks (like he is in Ford's most recent mock draft). Which presumably means that by the time Ainge is picking, the Rivers family is going to be feeling a little pressure. Tough for any dad not to want to influence things positively for his own flesh and blood, when he can, especially on the most important day of his flesh and blood's professional life.
Doc Rivers talked to ESPNBoston's Chris Forsberg about how he'll handle that:
"I'm going to say, 'Danny you better draft him,'" Rivers half-joked when asked if he'd select his son if he was still available when Boston is on the clock.

The Celtics will have two first-round picks in this year's draft, including one belonging to the Los Angeles Clippers (received by Boston as part of the Kendrick Perkins trade with Oklahoma City).

"And [Austin] could [still be on the board], that could actually happen," said Rivers. "If it happens, it happens. We're going to do what's best for the team."

Then he quipped: "I'm just not going to answer my phone, because my wife will be calling."