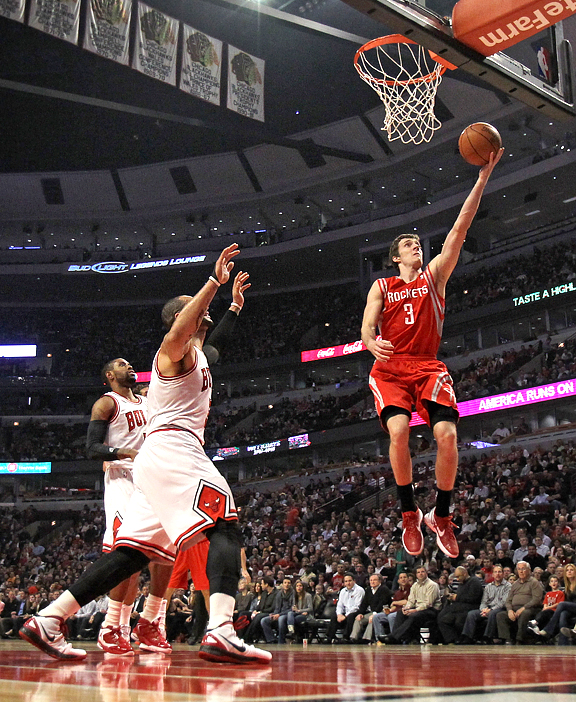 Jonathan Daniel/Getty Images Sport
The Rockets' guard is playing his best ball with the playoffs, and free agency, around the corner.
A recent conversation with Rockets guard Goran Dragic, by phone:
In your win against Chicago, you had 21 points on 12 shots, with five assists, four steals, a block and just one turnover and one foul. How was that?
You know, we had a rough game, one night before we lost against Indiana. We knew that we had to come out huge in that game in Chicago. We did that. Everybody played well. The bench was huge for us. It was a good thing for us that we won that game.
You guys have played very well against some of the NBA's best teams, like the Bulls, Thunder and Spurs. Why do you do so well against those teams?
I don't know. That's a really tough question. I think all these great teams motivate us to play against all these great players. We play well against those teams. We have to play with that every game. We have been playing well at home, but on the road we were not so successful. I don't know. All these teams are great, great teams. They already make playoffs. We try to win as many games as possible.
Do you have a feeling you have a great chance if you can face one of these teams in the playoffs?
Oh yeah, definitely. We are battling now for the eighth spot, with three or four teams. We know that if we're going to make the playoffs, we're going to play against Oklahoma or San Antonio. It's going to be really tough games for us, but still we have our chances. We beat Oklahoma twice. We beat San Antonio twice, so it's going to be an interesting matchup.
I saw you play Game 4 of the Western Conference Finals, in Phoenix against the Lakers, in 2010. Do you remember that game?
Yeah, yeah, of course. That was my first time playing in the playoffs. It was a huge win for us. Unfortunately, we lost that series against the Lakers. But was really some special moments for my career.
Athletes usually say it was just another game, but a moment like that, how can you use that. How is that useful to you?
That game? You know ... Now, I try to work hard every day. If I play some games special, in the playoffs ... that means something. Then I have a couple good games in the playoffs. Now when I look back, you can see that you can do a lot of things. You know, maybe, that was my second year in the league. I still needed to adjust well to the NBA. To have a couple of huge games means a lot to your confidence.
This might sound sort of dumb. I know for professionals, playing basketball is a tremendous about of hard work, and training and travel. But for most of us playing basketball is just fun. And moments like that look like they must be really fun.
You have to put hard work in, especially in the offseason. You practice twice a day for five hours or six hours so you can be fit for the season. Through that you can be in good shape. When the season starts it's a lot of traveling. Every every night you're sleeping in a different bed, different hotel, different cities. It is hard.
But then when you came on court, you forgot about every hard moment. You just try to enjoy and play that game that you love.
So every game is fun?
Yeah! Definitely! Every game is fun. Maybe some games you're not playing so well, you're losing by 20 points, but still it's the game. You have to finish that game and prepare for the next one.
Something about the Rockets this year: First Kyle Lowry and now you ... point guards have put up big numbers under Kevin McHale, which is something I don't remember happening much under Rick Adelman. Is there something different about the system that makes it easier for you to put up numbers under McHale?
I was with the Suns, we played run-and-gun. Then I was one month with Coach Adelman. The system was really different. Coach McHale, it's a lot of difference. From training camp he was saying we have to fix our defense. Every practice 100 percent, or no, 80 percent of our time was defense. Offense, we have a lot of guys who can score, the ball is moving around and I think everybody is dangerous to make a basket, which makes it much easier for everybody.
Do you have the license to create with the ball when you see opportunities?
Yeah, yeah. Kevin gave me a lot of freedom. He gave everybody freedom. On the court you can do whatever you want, but you have to be smart and you have to play for the others. If I see an opportunity where I can score, I can score.
Is he happy with the defense now?
Some games yes, some games no. I definitely think we improved our defense from last year. We still have to find our rhythm on the road games, because our record is not good enough. We're playing well at home, but still we have to fix something.
If you had to pick between the Thunder and the Spurs, do you have a preference?
No. Both teams are great. They're playing great this season. Who are you going to get? I'm going to be happy if we're gonna make the playoffs. From that on, we're going to see how we're gonna go.
Now, you grew up in Slovenia, correct?
Yes.
How often do people ask if you're from Slovakia?
Ooh, a lot. That happens a lot of times. I don't know how many times. A funny story: When I was playing for my national team, under-20, with Slovenia in the European championships in the Czech Republic, and our anthem was -- you know, before the game we have anthems -- our flag was not Slovenian but Slovakian.
Oh no.
That was pretty pretty annoying and tough for us.
Somebody must have yelled at somebody about that, I would think.
Oh yeah. Everybody was upset.
But they actually played the whole anthem, while you had to stand there?
The anthem was Slovenian, but the flag was different. The flag was Slovakian.
Some intern got fired, I imagine, after that.
Probably, I don't know.
That's terrible. What was your childhood like in Slovenia?
You know, it was great. I have one younger brother. My mom and dad they were great. I was playing soccer at first, then I was starting basketball. I was just that kid that was playing basketball all day outside with my friends. Go to school, play basketball again, and then if I get a chance I wake up at 2 A.M., 3 A.M., just to watch some NBA games.
How did you watch them? They broadcast them on regular TV?
We had a sports channel that, maybe once or twice a week, would broadcast an NBA game.
Who were your favorite players to watch?
Definitely Michael Jordan. Then Allen Iverson. Steve Nash. Jason Kidd. All those point guards.
And then I got the opportunity to play with Steve, which was something really amazing and special in my career.
And you both started as soccer players.
Yes. You know I started soccer, and then I had a leg injury. After my leg injury all my friends were playing basketball. That's how I decided to play ball too.
How old were you?
I was 12.
Do a lot of young Slovenians play basketball?
Yeah, especially in my neighborhood. We played a lot of different sports. Baseball, hockey, soccer, basketball, everything on the streets. In Europe the first sport is soccer, then it's basketball. A lot of kids start playing soccer, and then after a while, you know, change sports.
When you go back now, are you recognized on the streets?
Oh yeah, it's a small country, you know. Only two million people. If you're an athlete, or you play soccer or basketball or some other sport, the people recognize you because the country is small.
There must be a lot of kids who play basketball because of you, I guess, huh?
I don't know. I hope so! When I was a kid I was practicing in a small club and I had this chance. Every summer, Rasho Nesterovic came to our club, and he was practicing with us. When I was a kid that was huge for me. Hopefully I can do same thing this summer or next summer, just to practice with some kids, to give them the opportunity to practice together.
What's your contract situation?
After this year, I'm unrestricted free agent.
Ooooooooh! Have you thought about that much?
Before the season. But right now ... we're playing. I have a lot of minutes and I'm playing well. I don't want to think about that. Just try to focus every game, every game, give my 100 percent to my team, play as hard as possible. And we're going to see what gonna happen after this season.
That's a lot of uncertainty to have on your agenda, though, huh?
Yeah. But that's part of the sports, too.
How old are you?
I'm 25.
That's a good time to be a free agent.
Yeah.
Is there anything about playing soccer when you're young that helps you as a basketball player?
I think so. Especially my lateral movement. My hips may be a little bit faster. I don't know. When you're playing soccer you have to be really solid with your feet. I would say that helped me a lot when I was young.
Have you played soccer with Steve?
Oh yes. He's great. I think he could be a professional soccer player if he wants.
At his charity game in New York, one thing that struck me is soccer players are exceptional at seeing plays develop, recognizing the open cutter and that kind of thing at very high speed.
Yes. The soccer field is so big. You have to pass into the open field. In basketball the court is so small, and you don't have those deep pocket passes you can make. But in soccer you have to advance the ball and I saw Steve do some crazy things with the soccer ball. I was really amazed. I think probably he could do professionals, too.
What have I not asked you that you'd like to tell me about?
I don't know. When I played in Europe, I always played fast. My coaches would say calm down, calm down. In Europe, basketball is different. You have to make four or five passes, and then you can finish the offense. But you know when I was a kid I was dreaming about the NBA. When I came here, I knew from my first game, first practice, that this game is suited for me, because I like to play fast.
I'm really happy here in the United States, and that I can play in the NBA.