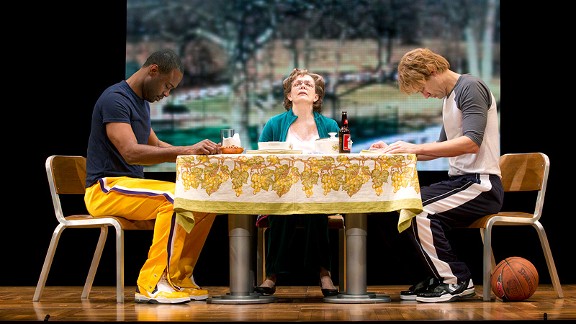 Magic/Bird Press
As depicted in a new play, Magic Johnson and Larry Bird had their share of awkward moments before a friendship developed.
On one side of the stage is actor Tug Coker playing Larry Bird. On the opposite end is Kevin Daniels in the role of Magic Johnson. Each is talking on a phone with his agent in what begins as one of the more mundane scenes in Eric Simonson's new Broadway play Magic/Bird.
Larry's rep tells him that Converse wants to film a commercial for his new signature basketball sneaker, the Weapon. Sounds great, says Larry. Have them send me a script and let's shoot it.
There is one catch: Magic Johnson, Bird is informed, will also be in the commercial.
Cue the record scratch.
On second thought, thanks but no thanks, says Larry.
Magic has a similar conversation with his agent, who tells his client that Converse wants him, at Bird's request, to film the TV spot in his rival's hometown.
"There's no way I'm going to French Lick," says Magic. "I live in Hollywood. This is where they make commercials."
OK then, says his agent. It looks like there won't be any Magic Johnson basketball sneaker after all.
"Wait," says Magic. "Where is French Lick?"
Smash-cut to Indiana.
Bird and Magic stand on opposing sides of a basketball court wearing hoops gear. And Converse Weapons. Their patience is wearing thin. Each complains to his respective handler that the filming is tedious. Magic says he is headed to his trailer and will be back when they need him. As he walks off, Bird calls out. The two rivals speak, having a real conversation for the first time. It starts awkwardly. Then it gets more awkward. Bird has a request.
"My mom was wondering if … you … want come up to the house … to have lunch … with us," says Larry.
Magic is taken aback. Larry explains that his mom will be upset if Magic refuses. "Do me a favor," he asks, adding that he doesn't want to be in his mom's "dog house." Magic, still somewhat puzzled, accepts.
Cue Mrs. Bird absolutely stealing the show.
Georgia Bird explains to Magic that she has been following his career ever since his high school team won the Michigan state title, "something Larry never did," she notes.
"Thanks, mom," says Larry.
"You were my favorite player," she says to Magic.
"Don't forget about Bill Laimbeer," says Larry.
Mrs. Bird and Magic hug.
As they talk, the Lakers point guard interrupts his greatest rival's mom to tell her, "You can call me Earvin."
She does just that while informing her new friend that her son was supposed to have played ball as a Hoosier at the prestigious Indiana University.
"He would have played under Bobby Knight," but instead "got scared or something" and was "back here in three weeks."
Slowly, this warmth and familiarity that Mrs. Bird exudes towards a new friend spills over to her son. After Larry's mom exits to tend the mashed potatoes, the two future Hall of Famers discuss the Birds' vast acreage in front of the house. Earvin seems envious that Larry has this wide-open expanse where nobody treats him like a legend. Like the Legend.
Magic doesn't have an escape. He loves Hollywood, but you can tell that Earvin is starting to realize that Larry has something of which he can only dream. Larry opens up about his upbringing and how it's nice that he now has his space, something he never had as a child in a family with five siblings. Earvin had nine, he says.
Larry lets his guard down so much that he almost slips up and tells Earvin how he hurt his back while shoveling gravel for a retaining wall he has been building all summer. He pauses, realizing he shouldn't be revealing a new physical weakness to Magic.
"Trade secret?" asks Earvin. "Something like that," says Larry before later admitting to Earvin that he "wrenched" his back working on the wall.
Why, asks Earvin, is he, Larry Bird, the reigning NBA MVP, out there building a wall rather than employing a contractor? "If I can do it, why hire someone?"
"Because you can afford it"
"Huh," says Larry, who seems to have a yokel-turned-rich epiphany.
Cut to real life.
---
Who knows if any of these conversations ever happened? But real-life Magic and Legend actually did have lunch with Larry's mom while filming the Weapon commercial in French Lick in 1985. By their own admission, this was the moment when two men who had spent years hating each other, even as they together created March Madness and built the modern NBA, finally realized -- even grudgingly -- their commonalities.
It's fitting, then, that Larry was the one building a wall. As depicted in Magic/Bird, he was the one who showed more vulnerability as the two foes first became friends. In the literal sense, building the wall is what led to his physical demise, as we see later when he struggles through excruciating back pain during routine activities. But that metaphorical wall, that shell that he creates as a cocoon, was something he needed to construct to maintain his edge against the only man he knew could beat him. Larry can't befriend his rival. He has to act the ornery bastard.
All this begs the question of whether or not a truly great competitor must show animosity to his opponent. The answer probably depends the individual.
Like Bird, Michael Jordan reveled in hate. It helped both thrive, and it seemed to be something they took with them off the court. But Hakeem Olajuwon, the leader of one of the six teams to win an NBA title over an 18-year stretch, always seemed more internally motivated, focusing less on how to beat you and more on flawless execution, knowing that the latter would take care of the win.
In the current era, guys like Tim Duncan and Dirk Nowtizki have had tremendous success. Neither is particularly prone to animosity. Dirk, until he carried the Mavericks to the title last year without an All-Star sidekick, was called soft for years due to this.
Still, commentators -- and even retired NBA legends -- continue to chastise modern players who don't have enough of a mean streak. Apparently, you can't be a saint like David Robinson. To win it all, you need to be a hard-case like Karl Malone. Right.
Where does this disconnect come from? Was it an unprecedented run of dynasties by Bird, Magic, Jordan and Isiah Thomas' Bad Boys that conditioned us to believe that winning requires a certain psychological makeup? These champions all approached the game from a similar mentality. And their near-two-decade reign makes it easy to forget that Bill Walton, Hakeem, Duncan and Dirk have all proved you can reach the pinnacle of success with varying degrees of antagonism.
Besides, even if today's players want to hate the competition, it's a lot harder in 2012. They didn't first get to know one another five years into their NBA career. Most became friends playing AAU or at summer camps before they could compare endorsement deals. So perhaps the only answer for today's NBA star who wants to maintain the hate -- Chris Paul and Kevin Durant, perhaps -- is to follow Magic's path.
Magic, as depicted in the play and in real life, found a way to blend competitive scorn into his gregarious nature. For him, there was also a wall, but it wasn't always up. He balanced his need to be adversarial by constructing two sides to himself. On the court was the superstar Magic, while outside of the public eye he was simply Earvin.
As he suggests in the Magic/Bird, Earvin found it natural to hire a guy to build that wall for him. He hired Magic.
One scene shows how his on/off switch contrasts that single-mindedness of Bird. During their next regular season game following the Converse commercial shoot, Magic, wearing purple and gold, approaches Larry. "What's up, LB?"
Larry has nothing but scorn for him.
"Your man, Michael Cooper, over there," says Larry. "Tell him I'm putting on a show. A Larry Bird show. We're gonna kick your ass."
---
Jared Wade is the founder of 8 Points, 9 Seconds, the TrueHoop Network's Indiana Pacers blog