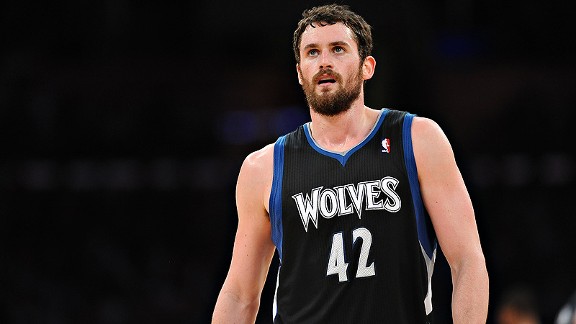 Noah Graham/NBAE/Getty Images
Kevin Love's more prominent role in Minnesota doesn't come without its challenges.
Turn your attention to Mar. 23 of this year.
Kevin Love has just dropped 51 points on the Oklahoma City Thunder, scoring from just about every spot on the floor, hitting seven of his 11 3-point attempts and dueling with Kevin Durant through four quarters and two overtimes. Two days later he torches the Nuggets for 30 points (on 19 shots) and 21 rebounds. Three days after that he puts 40 and 19 on the Bobcats. He is now fourth in the League in scoring, averaging 26.5 per game. There have been 20 30-and-15 games in the NBA this year; Love has 10 of them; no other player has more than two.
Now remember the Kevin Love of just one year ago and realize how strange this all seems. Remember last season's most improved player, the somewhat pudgy, no-jumping white dude who somehow managed to outrebound legions of taller, more athletic opponents? He got his points, but he was no one's idea of an elite scorer. He was a rebounding supernova and an efficient bucket-getter hiding out somewhere in that second tier of NBA stars. We wondered if he was a franchise player worthy of a max contract or simply, despite the eye-popping numbers, a glorified role player, something like Kris Humphries with a sweeter J.
Back then, Love's conspicuously below-average one-on-one skills prevented him from being considered a legitimate go-to scorer. He was awkward with his back to the basket. A post-up often ended with him throwing up an off-balance hook as he sailed through the lane, and his face-up game wasn't much prettier. There's no way a truly great player, many of us thought, could possibly look like that.
Still, there was an undeniable glory to Love's early performances. We know full well that elite-level rebounding is a sign of unusual athleticism and finely honed skill -- in Love's case, an immensely strong and well-balanced lower body; precise footwork; quick, powerful hands; and a preternatural anticipation of the ball's path. And yet seeing Love sow such chaos on the offensive glass with nothing but these understated gifts, repeatedly creating something out of what looked for all the world like nothing, always came as a sweet shock.
This year, though, Love has become something a bit less idiosyncratic: a genuine premier scorer. And he has done this despite, or perhaps because of, that deeply unorthodox offensive game. Strength, effort and craft on the offensive glass have always been among his fundamental assets. But he has turned the basic act of challenging for rebounding position into a volume-scoring weapon, forcing teams to repeatedly foul him rather than surrender easy putbacks. And for a player so lacking in the conventional offensive tools, he has become remarkably savvy at drawing contact as he makes his move toward the basket. He has overwhelmed team after team simply through the grinding process of getting to the line all night long. (See: Dec. 27 in Milwaukee in which Love shot 24 free throws, scoring 32 points on only six made baskets, or Feb. 10 in Dallas in which he went 14-for-14 from the line, scoring 32 on 9-for-18 shooting.)
Let's also not forget the particular vexations posed by an undersized big man who happens to be an excellent 3-point shooter. In that ridiculously entertaining double-overtime loss to the Thunder, Love -- playing center because of an injury to Nikola Pekovic -- shredded Oklahoma City's defense with pick-and-pop 3s. Because Kendrick Perkins was terminally unable to challenge Love outside, Oklahoma City was forced to go small, surrendering its size advantage on the inside. From then on, the game was played on the undermanned Wolves' terms; Love's outside shot literally changed the complexion of the game.
Love's game is a strange patchwork, an unprecedented hybrid of modern Euro big man skill and old-school glue-guy hustle. He is equal parts stretch-4 and banger. He is a dominant scorer whose lack of explosiveness routinely results in blown layups and blocked shots. He is a slow-footed, 3-point shooting, 6-foot-8 center who can singlehandedly foul your best big man out of the game or put your team deep into the penalty. Most great scorers are blessed with some obvious, almost supernatural physical gift -- Durant's length and economy of movement; LeBron's size and speed -- but Love is just his average-looking self, exploiting the game's margins on his way to superstardom.
Still, Love's transformation has been jarring, and not simply in terms of the sheer quantity of points he's put on the board. He has assumed the attitude of a scorer, the willingness to see every moment of offensive basketball as an opportunity both to attack the D and to explore new possibilities in his game. This season, we've seen Love nail step-back jumpers. We've seen him coolly drain Tim Duncan-esque, 15-foot, shallow-angle bank shots. We've seen up-and-unders, escape dribbles, dynamic sweep-throughs and balanced jump-hooks. It would have been pretty hard to imagine any of this even one year ago. Thanks to a number of factors -- those improved skills, the Wolves' changed offensive philosophy, an injury epidemic that has sidelined five of the team's top six players for significant stretches this season -- Love has become Minnesota's scorer of first and last resort.
This approach has unquestionably yielded some spectacular results. And this is, in many ways, what the undermanned Wolves require. But it's hard to fight the feeling that something has been lost along the way. Central to Love's game has always been an incredible, relentless energy, a willingness to pursue every stray ball and to wrestle all comers for position. This tenacity, coupled with his remarkable offensive efficiency -- putbacks, free throws and 3s were his meat and potatoes -- was at the heart not only of his incredible production in 2010-11, but also of the sheer thrill of watching him play.
Love certainly remains a great rebounder. He's still averaging 13.8 boards per game, after all, and there are still many moments in which we see him maneuver himself between two bigger, springier defenders and battle to pull down an impossible one-handed board. But that kind of vibrant effort is no longer a constant. He is no longer quite so feverishly disruptive of opponents' defensive rebounding schemes.
What's more, his efficiency numbers -- rebounding rate, true shooting percentage, 3-point percentage, all essential to what made him great -- are down from last season. A great portion of this drop-off is explained by the simple fact that Love's job is extraordinarily exhausting. None of the league's top scorers are asked to rebound as heavily as Love; none of the top rebounders carry as great a share of their team's offensive burden. Love can no longer afford to expend such radiant energy every time a shot goes up. He is forced to ration his effort judiciously across the many minutes he is asked to play and the many responsibilities he is asked to shoulder.
But much of Love's declining efficiency stems from the kinds of shots that he's now taking. He has accepted the venerable prerogatives of the No. 1 option: the right to demand the ball in isolation; the right to shoot contested, off-the-dribble midrange jumpers; the right to stare down his defender, vision tunneling as seconds tick off the clock and teammates stand and watch. These things can be magnificent and valuable, but they're a far cry from the Kevin Love we once knew.
We're all enchanted by the mythology of the high-volume scorer. We love to see players enter that altered state of consciousness in which the game is reduced to the simplicity of an attacker, his defender and the dance the two of them perform together. But Kevin Love -- the superstar role player, the sweet-shooting banger -- complicates this mythology. A great portion of his charm and effectiveness lies in the contradictions and dissonances in his game, the strange, unprecedented way he plays. Do we really want him to accede to the conventions of superstardom? Do we lose something essential when a measure of that offbeat magic is drained away?