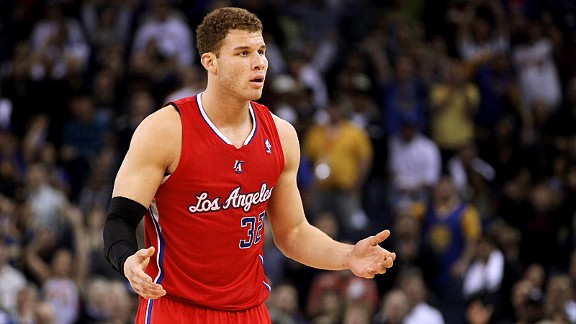 Ezra Shaw/Getty Images
Griffin reacts to becoming our first two-time Flop of the Night honoree
HoopIdea wants to #StopTheFlop. To spotlight the biggest fakers, we present Flop of the Night. You can help us separate the pretenders from the defenders -- details below:
Congratulations to or first repeat winner (or is it repeat offender?)!
There's no question Griffin's exciting, attacking style earns him plenty of legitimate bumps and bruises. But he's also earned his reputations for acting. Here he flops after hitting himself in the face following Chris Paul's game-winning layup.
This reverse angle is just the best because you can see that after untangling himself from Kendrick Perkins and managing to whack himself in the forehead, Griffin actually leaves his feet to sell this flop.
It's sort of genius. The officials always keep an eye on noted tough guy Kendrick Perkins, and if Griffin can embellish the contact enough to draw a foul in that situation, he gives his team the chance to go up by two possessions with under ten seconds to play.
Fortunately for everyone, that's not how the game was decided.
Nice work by ESPN's Arash Markazi to spot it!
When you see an egregious flop that deserves proper recognition, send us a link to the video so we can consider it for Flop of the Night. Here's how to make your submission: