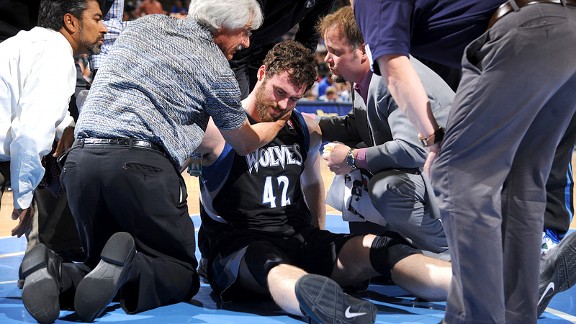 Garrett Ellwood/NBAE/Getty Images
Kevin Love's mild concussion against Denver shouldn't be taken lightly.
I still have trouble piecing together the events of a night from 11 years ago.
From what I've been told and the little I remember, my rec league basketball team was up by about five or six points with under a minute to go. We had the ball and were playing Keep Away from the other team. I caught the ball somewhere before halfcourt, evaded a defender trying to foul me and began advancing the ball.
After I turned to dribble, I have no idea what happened next. The next moment I can recall is lying on the floor with a few teammates and a referee standing above me. I don't remember getting up. I vaguely remember standing at the free throw line and have a faint recollection of how the basket looked to me as I was trying to focus in on my free throws. Nothing was in focus and I had a tunnel vision type of view as I looked toward the hoop. Miraculously, I made both free throws (or maybe my friends just told me I did to make me feel better). I honestly couldn't tell you.
The game ended and we had our customary game recap session at a nearby Taco Bell. I don't remember going there but I know I was there. For some reason, I drove home after this. When I pulled up to my house, an overwhelming sense of disorientation and fear came over me. I couldn't remember how I got home, even as I was sitting in my car. I tried to figure out if I had driven myself, confused as to why I'd be in the car if I hadn't been the one driving. I wondered if I ran any red lights or veered into occupied lanes in my 14-mile drive home.
I had a concussion. My trip to the doctor the next day confirmed this. For the next three weeks, I avoided driving because it didn't feel safe. I couldn't concentrate long enough to obey basic traffic laws. For a few months after the oncourt collision, I'd get splitting headaches that just randomly popped up. Before that, I'd rarely get them. It took me roughly five or six months to ever completely feel normal again, and even to this day, my short-term memory is unreliable.
Seeing Kevin Love going down in a dazed heap after JaVale McGee's elbow accidentally implanted itself into Love's temple was a scary sight. Whenever you see a guy on the ground, looking up at his teammates and trainer without a hint of being present, it's an alarming and uneasy feeling. It's also an injury the NBA is taking extremely serious.
So far this season, we've had a few high profile players suffer concussions. Kobe Bryant, Kyrie Irving and Mickael Pietrus have all been diagnosed with concussions to varying degrees/grades. Bryant suffered one in the All-Star Game and never missed any action after clearing the mandatory exertion tests to show he was symptom free. Irving missed three games after being accidentally kneed in the head by Dwyane Wade.
Pietrus had the most severe of these brain injuries, suffering a Grade 3 concussion when he slammed into the hardwood in Philadelphia. He missed 10 games, just coming back last night to help the Celtics in their win over Atlanta.
While Love's concussion may not be as severe as Pietrus', it begs the question of whether or not he should even finish the season. He was kept for precautionary measures in Denver overnight with Wolves assistant athletic trainer Andrew Tai, per Jerry Zgoda of the Star Tribune.
Minnesota, like many other teams in the league, has been banged up throughout this season. They lost Ricky Rubio due to an ACL tear, Nikola Pekovic for numerous games because of an ankle injury, JJ Barea with various ailments, and currently Luke Ridnour with a sprained ankle. Since the Rubio injury, they've gone 4-14 and helped extend their April losing streak to 23 straight games (their last April win came against the Warriors on April 8, 2009). They've fallen out of the playoff race and don't even have a draft pick to tank for.
Ultimately, it's up to Kevin Love and the medical staff involved in assessing concussion recovery to figure out if he should get back on the court before the 2012-13 season begins. Other than pride and wanting to get back to your teammates, there really isn't a reason that shows the Wolves should risk putting him back in the lineup if there are any lingering symptoms past today.
Nearly a month ago, LeBron James claimed he was "too tough" to get a concussion after a collision with Grant Hill in Miami. Even if we pretend that is medically and biologically possible for James, the idea for a public figure/role model to claim toughness has precedent in preventing a head injury seems reckless at best, as Tom Haberstroh wrote about here.
There is nothing wrong with taking things slowly with this Love concussion situation and being overly cautious in when you let him get back on the court. If it means he misses the final seven games for Minnesota this season then so be it. These head injuries can be a scary byproduct of this game at any level and the consequences can stick around for a long time.
I would never pretend to have been too tough for my concussion. Pietrus wouldn't let his ego get in the way of admitting to one and LeBron shouldn't have scoffed at the idea. Hopefully Kevin Love and the Minnesota Timberwolves will take it as seriously as each head injury potentially is.