HoopIdea wants to #StopTheFlop. To spotlight the biggest fakers, we present Flop of the Night. You can help us separate the pretenders from the defenders -- details below:
Corey Brewer has apparently been training with the Cobra Kai. Midway through the fourth quarter of the Nuggets' crucial game against the Houston Rockets, the lanky wing found himself open for a big 3-pointer. That's when Brewer decided that instead of his usual shooting motion, he needed to "SWEEP THE LEG!"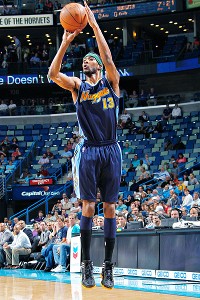 Layne Murdoch/NBAE/Getty
Corey Brewer's normal shooting motion.
Luckily, this is the NBA, not a junior karate competition, so no one was hurt, or even endangered. But check the video evidence: As Rockets guard Goran Dragic sails past him, Brewer awkwardly extends his right leg and draws three free throws.
Here's how (I imagine) the conversation between Nuggets Coach George Karl and Corey Brewer went before the game.
Karl: Corey, I want you to score when you shoot from 3.
Brewer: But Coach, I can make a 3-pointer...
Karl: I don't want you to make the shot, I want you to score!
Brewer: But I'll be a flopper!
Karl: I said ... score. Sweep the leg.
---
When you see an egregious flop that deserves proper recognition, send us a link to the video so we can consider it for Flop of the Night. Here's how to make your submission: