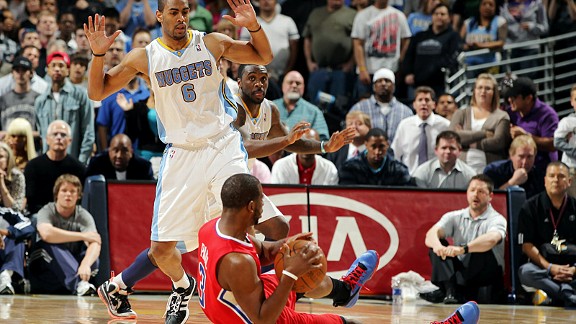 Doug Pensinger/NBAE/Getty Images
Chris Paul ended up on his back, but didn't get the call.
HoopIdea wants to #StopTheFlop. To spotlight the biggest fakers, we present Flop of the Night. You can help us separate the pretenders from the defenders -- details below:
Chants of "Beat LA!" careened from the rafters of the Pepsi Center in Denver. A two-point game hung in the balance as two point guards, Chris Paul and Andre Miller, readied themselves for the final minute of action.
What transpired next was one of the great sequences in flop history. An epic flop-off between Paul and Miller the likes of which we may never see again (until the playoffs, at least). It starts with Chris Paul, who was voted Most Floppy Player by the TrueHoop Network. As Paul works off a ball screen, Arron Affalo slides to cut him off, somehow sending Paul flying. Though Paul didn't get the call, he did keep his dribble even as he embraced the floor.
Not to be outdone, and with his Nuggets in desperate need of another possession, Andre Miller went for a classic "stop and flop." Attempting to draw an offensive foul on Paul, Miller acts as though the bit of contact Paul makes with him is equivalent to bring trucked by Adrian Peterson.
Not only did referee Zach Zarba not buy Miller's flop, he then whistled Miller for reaching (from his seat on the hardwood), sending Paul to the line for the game-clinching freethrows.
In an ironic twist, replay suggests Paul was already losing the ball when Miller stuck his arm out, which would have likely given the Nuggets a layup to tie the game.
When you see an egregious flop that deserves proper recognition, send us a link to the video so we can consider it for Flop of the Night. Here's how to make your submission: