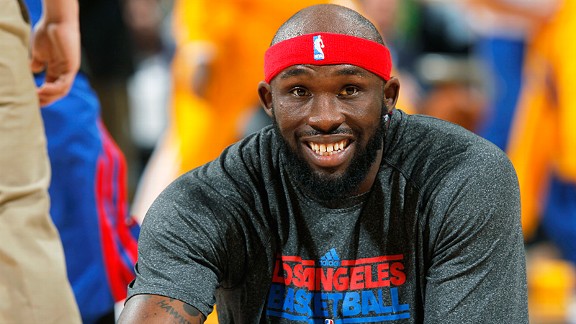 Rocky Widner/NBAE/Getty Images
Smile, Reggie! You're the latest Clipper to win Flop of the Night.
HoopIdea wants to #StopTheFlop. To spotlight the biggest fakers, we present Flop of the Night. You can help us separate the pretenders from the defenders -- details below:
The 2012 Clippers are becoming the 1927 Yankees of flopping: a truly unprecedented collection of flopping talent in their primes. In the award's young life, Chris Paul and Blake Griffin have each earned Flop of the Night twice -- before Manu Ginobili even has one. But today's award goes to their teammate Reggie Evans, whom the TrueHoop Network voted Second Team All-Flop in February.
Evans has a reputation for delivering low blows, but that doesn't stop him from exaggerating contact to hilarious degrees when the moment is right. Sunday night he caught an unsuspecting Hornet -- Greivis Vasquez -- with a jarring backpick at mid-court. Vasquez took exception and, as he turned, poked Evans in the chest with his forearm.
Watch Evans, after a damning moment of hesitation, flop onto his back like a prize swordfish dragged from the ocean. (Thanks to InsideHoops for capturing this one!)
Guess who rushed to the scene to convince the referees of the severity of Vasquez's crimes? Paul and Griffin were there in moments, with Paul seemingly calling for Vasquez's ejection.
Vasquez was whistled for a Flagrant 2 (and ejected) in real time, but thanks to the NBA's replay rules, which allow for the referees to instantly review Flagrant 2's, lead official Ron Garretson was able to immediately downgrade Vasquez's blow to an everyday personal foul.
Evans' performance on the video was entirely obvious on the replay, but also entirely unpunished ... which is why we have Flop of the Night.
After the fact, not even Evans could keep a straight face. According to the Orange County Register's Dan Woike, when asked about the flop after the game Evans laughingly said, "He hit me. He hit me real hard."
Flop flashback: Evans' flop also reminded me of this Pantheon level flop from Philippine Basketball Association veteran Mick Pennisi.
When you see an egregious flop that deserves proper recognition, send us a link to the video so we can consider it for Flop of the Night. Here's how to make your submission: