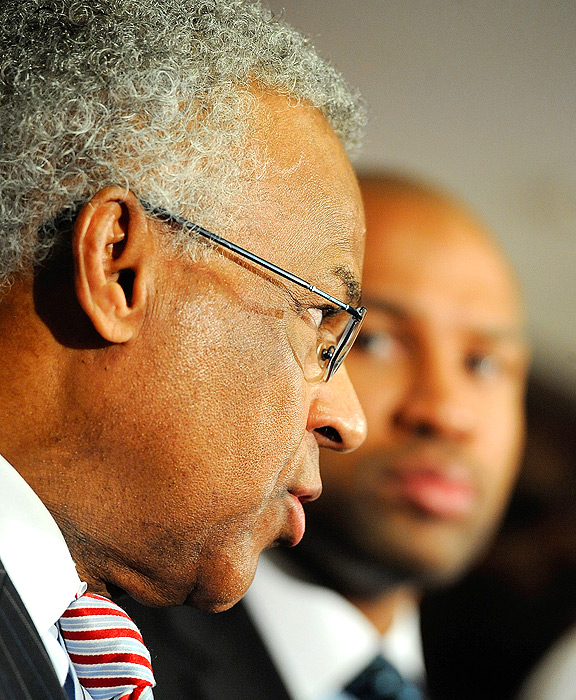 Patrick McDermott/Getty Images Sport
A long-tense relationship explodes.
Back in the lockout, a common theme was that David Stern was looking to massacre, destroy or otherwise obliterate the National Basketball Players Association.
It was never true. As Stern said then, he wanted a strong union because he needed a body that could deliver a deal. (If the union had fallen apart, who would have rounded up the player support necessary to get a deal done?) Stern bargained hard, but he certainly did not fire all of his guns.
We know this because it would have been a cinch to destabilize NBPA executive director Billy Hunter, and Stern did not.
One of the worst-kept secrets in basketball over the past few years has been nepotism at the players' association, where Hunter and his family profit in many and varied ways from union activities. But it was a card Stern never played.
Now that the collective bargaining deal is done, instead of would-be opponent Stern, a would-be ally -- NBPA president Derek Fisher -- has been the one to bring Hunter's nepotism to light.
Hunter insists he has done nothing wrong, and it's unclear how this will end. After a string of conversations with insiders, some insight:
Is Billy Hunter good at his job?
If you judge by results for players, the answer is yes. It is easy to point out things Hunter could have done better, and certainly he has negotiated sweet deals for himself and his family.
But the key skill of his job is saying "hell no" to bad deals offered by the NBA and then rallying player support for acceptable ones. In that regard, it's impossible to argue the results of his work to date. NBA players now collectively make around $2 billion a year. At the time of Hunter's first deal in 1998, players made about $900 million. NBA players enjoy many rights that elude players in hockey and football. Baseball players have a system that gives them more leverage, but NBA players still earn a similar percentage of league revenues.
Is Derek Fisher good at his job?
Fisher has a stellar reputation as a teammate and leader. Through much of the lockout, Fisher was the union's appointed spokesperson, because he is good at it -- exuding awareness, calm, empathy and a grasp of the issues. While Hunter and lawyer Jeffrey Kessler made strident or aggressive comments that at times tinged the proceedings with desperation, Fisher tended to project confidence, unity and calm. It's also noteworthy that with Fisher in the spotlight, this union of millionaires managed to prevent the kinds of embarrassing out-of-touch-with-real-people player quotes that undermined the players' cause in the previous lockout.
And yet, the NBPA executive committee voted 8-0 that it has lost confidence in Fisher's leadership, for, among other things, failing to uphold his duties as president.
The union document also, intriguingly, accuses Fisher of "not acting in the players' best interests during collective bargaining."
What's that about? During collective bargaining, there were rumors that Fisher went to the NBA behind Hunter's back in an attempt to broker a deal. Sources with direct knowledge of the process insist it never happened. Others, including apparently the NBPA executive committee, evidently believe that, or something like it, did happen.
This could prove to be as important as any other revelation. Neither side has been forthcoming with evidence in this regard, but if that changes, things could get complicated quickly.
Why open this can of worms?
Fisher is gearing up for a playoff run as a guard for the Oklahoma City Thunder. Players have bigger things on their minds. Why bring this up at all?
One theory is that by bringing to light governance issues surrounding Hunter, Fisher is simply doing his job as president of the union, much as former treasurer Pat Garrity once tried to do.
There is certainly good reason to have a serious look at Hunter's business practices, as even members of the union's executive committee have acknowledged. For instance, Roger Mason Jr. told Howard Beck of The New York Times: "Nobody is saying it's not right to look at whatever Derek is charging Mr. Hunter with. What we're saying is, there's a certain way it has to be done."
Agents agitated to make a fuss of these issues during the lockout, when Hunter was under extraordinary pressure and the information could have been particularly hurtful. By waiting until the new deal was signed, sealed and delivered, Fisher kept it "in the family" when publicity might have caused players trouble. And now that concern has passed, he's evidently eager to clean up union practices.
Is this some kind of coup?
If this is an effort to oust Hunter, is that on behalf of somebody?
Nobody seems to know anything solid about that, other than to speculate that Hunter -- a veteran lawyer practiced in the arts of business-place battle -- will be tough to dislodge. Does Fisher want Hunter's job? Somebody else?
If you were making a short list of candidates to replace Hunter, one name that would come up is the head of the NFL Players Association, DeMaurice Smith. Smith met with NBA players at Fisher's request during the lockout. There's no indication Smith is angling for the job, but Fisher's effort to investigate Hunter comes with ties to Smith.
The fight between Fisher and Hunter arose over Fisher's desire to have the Washington, D.C., law firm Patton Boggs conduct an in-depth review of the union's finances. Smith's last job before the NFLPA was as chair of Patton Boggs' government investigations and white-collar practice group. Sources say an associate of Smith's, Christina Guerola Sarchio, who recently worked for Smith's NFL union, was set to handle the investigation Fisher ordered -- before the union's executive committee called it off.
What's the endgame?
It's impossible to find anybody who expects Billy Hunter to still be running the union when the next CBA is negotiated. Based on the evidence that has come to light so far, lawyers say it's unlikely Hunter will get in serious legal trouble. His potential conflicts of interest were disclosed to the union, and the executive committee approved the various hires and business deals in question. Fisher himself has been on that committee for the better part of a decade and was in many of those meetings.
At the same time, it's unclear how pressing the issues are. It is widely expected Hunter will leave of his own volition before the next round of talks, in about five years.
So this is not a fight about whether Hunter will leave. But when.
And to that end, sources in the know are adamant Hunter will not step down anytime soon, even if holding on to his job requires a massive battle.