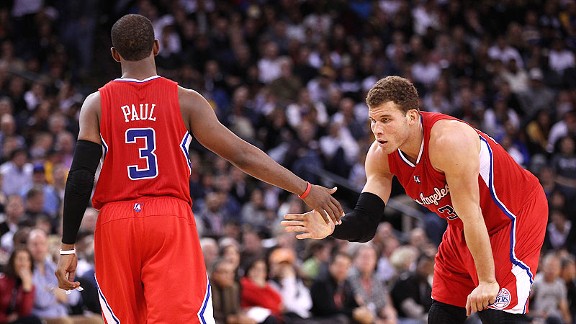 Ezra Shaw/NBAE/Getty Images
Can Chris Paul and Blake Griffin reverse the Clippers' fortunes against the Grizzlies in Round 1?
When Blake Griffin was assigned to the Los Angeles Clippers as the first pick at the 2009 draft, he moved through the usual rituals -- the handshake with David Stern, the donning of the cap, then his inaugural news conference as a member of his new team. With camera bulbs flashing like lightning bugs, Griffin fielded questions about joining a losing organization, one that lived in the shadow of its crosstown rivals.
Whatever he might have been thinking privately that night, Griffin said all that right things. The low expectations for his new team meant there was time to work and build a culture. He scoffed at a question about whether the franchise's futility would affect his mood or mission.
"I know what's happened in the past," Griffin said then. "People keep telling me that, but I'm not just going to say, 'Oh, well, we haven't had that many winning seasons so I'll just give up now.'"
Nearly three years later, as Griffin prepares for his first postseason game, the Clippers are an organization whose culture has changed radically since his arrival. Griffin is partially responsible for the new vitality of the Clipper brand. His pyrotechnics, which began to attract real recognition in December 2010, helped the Clippers achieve cult status last season, even though they won only 32 games.
Griffin is a visual talent for a visual age, and his exploits are perfectly distributable on video platforms, which is where a fair number of us spend our time these days. His charisma has taken a peculiar turn this season, as he has become more polarizing -- but that pivot has also turned him into one of the league's lead characters.
Griffin's individual notoriety wasn't enough on its own to elevate the Clippers to relevance, but then Chris Paul arrived.
Like Griffin, the legacy of the franchise, its name, its past transgressions -- none of it fazes Paul. As far as he's concerned, the Clippers are the Los Angeles Pauls. The way Paul sees it, abstractions like history and superstition don't stand a chance against history if he's at the controls. He has accepted this franchise as his home, and that alone renders your snide comments and glib insults null and void. Ask him a question about the Clippers' storied futility, and he'll reject the whole premise.
Seriously. Ask him.
The Clippers now have two guys who have effectively rebranded the organization with their skills and appeal (or, perhaps for some, anti-appeal). After winning more than 60 percent of their games, the Clippers will take the floor in Memphis on Sunday night. As has been the case since the start of the season, nobody is quite sure what the threshold of success should be for the Clippers. Should their season be deemed a failure if they bow out ceremoniously to a quality Memphis Grizzlies team with home-court advantage? Or should a team with two superstars be disappointed with anything less than a conference finals appearance?
There's no consensus to these questions because we haven't figured out whether we should judge the Clippers' performance in the postseason through the lens of history or as just another NBA team.
For incrementalists, the outcome of the Clippers' playoff campaign isn't all that important in the larger context of the franchise's renovation. You don't cry if someone makes a dent while laying sheetrock for your dream home, one you hope to live in for the rest of your life. Even if the Clippers go quietly in a Round 1 loss, that won't nullify the accomplishments of the season. The Clippers are now a destination where superstars will set up shop, and where a young star can prosper as both player and persona. Ten years ago, Elton Brand heard nothing from the Clippers when he was eligible for an extension on his rookie deal. On July 1, 2012, it's a safe bet the Clippers brass will be on Griffin's doorstep at 12:01 a.m. with paper and pen to secure his services long term. Better yet, chances are that Griffin will sign that extension, which is no small thing. With Paul returning, the Clippers can pick up where they left off and continue the project. By next spring, a first-round exit a year earlier will be in the rearview mirror.
The counterargument is that this line of thinking is exactly the kind of defeatism that sentences bad franchises to eternal failure. You really think Paul cares about "larger narratives"? Have you watched him play? Paul cares about only one thing -- winning -- and any attempt to accept losing as a minor setback is silly. If you want to become a tent-pole franchise in this league, then act like it. No team worth its salt ever rationalizes losing. In fact, that's precisely how you delineate the Lakers from the Clippers.
For the past couple of years, the Clippers have been engaged in one of the most ambitious rebranding exercises in professional sports. That evolution won't be derailed by a first-round loss to Memphis, but there's a fine line between relevance and success.
The Clippers have claimed legitimacy. Now we'll see if they can win.