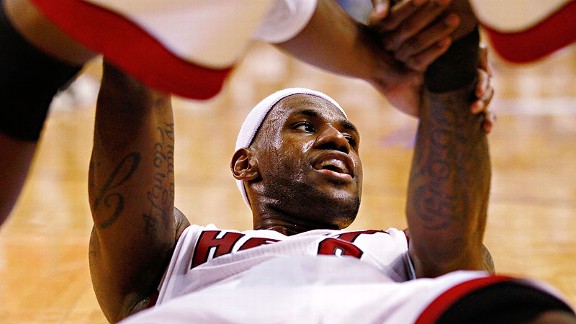 Marc Serota/Getty Images
LeBron James earns top honors.
HoopIdea wants to #StopTheFlop. To spotlight the biggest fakers, we present Flop of the Night. You can help us separate the pretenders from the defenders -- details below:
Flopping in the NBA is hitting a new level with the arrival of the playoffs. Our first playoff Flop of the Night goes to LeBron James, a player who has shown a flair for the flop in postseasons past.
James's prolonged reaction to a rugged back pick from Tyson Chandler drew the most scrutiny on Saturday (and a flagrant foul on Chandler), but it's actually the preceding play that earns James this dubious award.
After deflecting a Knick pass, James tracks down the loose ball in the corner, where he is hemmed in by J.R. Smith. At first glance it seems as though Smith, in his eagerness to recover possession, nudges James to the ground. But this replay shows that it's actually James who elbows Smith before losing his balance and falling out of bounds.
Luckily, Jeff Van Gundy was on the scene to call out the flop: "I'm not giving him that call. If I'm the referee, [it's] ball out of bounds, good. Knick ball the other way."
It's worth listening to the end of the clip, when a slow-mo replay of the flop reduces Van Gundy's commentary to indistinct grumbling. He is literally speechless.
Runner up: Chris Paul, who is blown backward by this seemingly innocuous fourth quarter drive from Mike Conley.
When you see an egregious flop that deserves proper recognition, send us a link to the video so we can consider it for Flop of the Night. Here's how to make your submission: