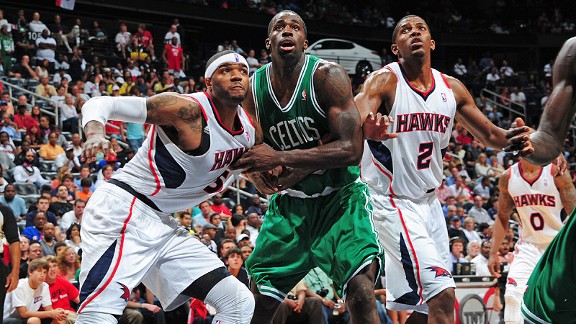 Scott Cunningham/NBAE/Getty Images
Brandon Bass hangs on to Josh Smith, perhaps to prevent him from flopping out of bounds.
HoopIdea wants to #StopTheFlop. To spotlight the biggest fakers, we present Flop of the Night. You can help us separate the pretenders from the defenders -- details below.
Atlanta's star forward Josh Smith has one of the unique skill sets in the NBA. He dominates the glass and protects the rim like a center and can handle the ball like a point guard.
He's also becoming a champion flopper.
Before hurting his knee (all best wishes for a healthy Josh Smith in Game 3) in Tuesday night's loss to the Boston Celtics, Smith dove like a stuntman as Brandon Bass attempted to box him out.
You have to respect Smith's willingness to go to the ground. He looks like someone who, eager to join a dance circle, starts doing the worm but forgets how it goes halfway to the ground.
Check the slow-motion replay and you'll see Smith using his excellent athleticism not to sky for a rebound, but to buck and actually leap forward and out of bounds. He lands at the referee's feet, and gets the call.
Everyone knows that players flop for charges and on scoring attempts. But there is no time when there's more contact in an NBA game than during the scrums under the rim, which makes it the perfect time to try and sell a flop, as Smith does masterfully on this play.
Keep your eye peeled for more rebound flops as the playoffs go on, we've already had two this week.
And thanks to Michael Pina for pointing this one out!
When you see an egregious flop that deserves proper recognition, send us a link to the video so we can consider it for Flop of the Night. Here's how to make your submission: