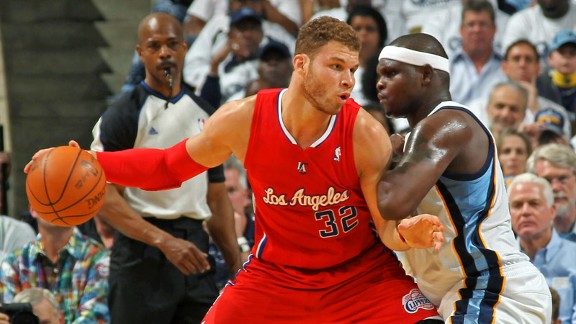 Joe Murphy/NBAE/Getty Images
Blake Griffin is hungry for the ball. The Clippers need to feed him in Game 2.
MEMPHIS, Tenn. -- Once the Grizzlies digested the Game 1 meltdown (come to think of it, they might not have been able to keep that one down), they went back to work, watched the film and likely came to a reasonable conclusion:
Memphis dominated the Clippers for 39 minutes on Sunday night.
If an NBA team defines success by their capacity to get the shots they want over the course of the game, Memphis achieved that for most of Game 1. If not for settling into their prevent offense, what Gilbert Arenas called "stalling," almost a four-corners style of play, this exercise might be a one-way exchange:
What do the Clippers need to do to get back in the series?
Chris Paul is aware of this dynamic. "I think Gilbert [Arenas] said it yesterday," Paul said. "[The Grizzlies] don't have to change anything. They beat the life out of us."
As good as the Grizzlies looked for three-plus quarters, they'll tweak their plan for Game 2. Meanwhile the Clippers have a ton of work to do to stave off the rigor mortis that afflicted them for most of the game:
Now starting at small forward for the Clippers against Rudy Gay...
Clippers coach Vinny Del Negro has been coy about his plans for the 3 spot in the Clippers' starting lineup, and for good reason. With Caron Butler lost to a fracture in his left hand, the Clippers have a couple of imperfect options. The first is journeyman Bobby Simmons, who hasn't seen much action lately. Simmons offers Del Negro better size against the rangy 6-foot-8 Rudy Gay. The Clippers staff likes Simmons' defensive judgment, but he's been an offensive liability, tallying a very sad Player Efficiency Rating (PER) of 6.06. He's shooting 31 percent from the field and doesn't get to the line.
After playing the role of co-savior on Sunday night, Nick Young would be the natural candidate if the Clippers wanted to throw maximum firepower at Memphis with their starting lineup. But both Young and Del Negro have expressed a comfort with Young's role in the second unit. He's a one-on-one player and inveterate shooter who best operates as a microwave in a less structured game. Over the course of the season, Del Negro has been inclined to maintain order on his bench and elevate better defensive options to plug holes in the starting unit. Don't be surprised if Simmons starts, but Young finishes.
This decision for the Clippers is less about Simmons-Young and more about Gay, who was able to find mismatches at will over the first three quarters. Time and again, Gay would zip off down screens and force the Clippers' big men to switch out. Or Memphis would go to their "Pistol action," which forces a mismatch for Gay against one of the Clippers' guards. Had the Grizzlies not collapsed and stayed true to what was working for them offensively, the headline Monday morning might have read, "Gay carries Grizzlies to Game 1 victory."
Work through Marc Gasol
The Grizzlies don't boast the most efficient half-court offense, but you never would've known it by their performance in the first quarter in Game 1. Memphis' best-looking offense originated with Gasol, both as facilitator and scorer. When he wasn't draining face-up jumpers, Gasol was distributing the ball. He dished out six assists, at least one to each of the other four Memphis starters. Gasol's gifts were a beautiful composite of what makes the Grizzlies offense tick: A high-low pass to Zach Randolph, hitting Tony Allen (twice) on baseline cuts, a pair of kickouts to Conley when the defense collapsed, and a well-run handoff play for Gay.
Whether the Grizzlies have Gasol flash to the foul line where he can act as the distribution hub on the offense, or they put him into pick-and-roll plays on the left side which will pressure the Clippers' big men to make decision, he's the catalyst for Memphis. They got away from late in Game 1 and it might have cost them the game.
Can Z-Bo be Z-Bo?
By his own admission, Randolph isn't 100 percent, and you can see it in his work down on the right block. When Randolph is right, he uses his feet and mass to put his defenders on their heels. By keeping his defender moving, Randolph is to create that layer of space he needs to get that sweet shot up, with his countermove if necessary. Right now, he's hesitating and Blake Griffin and Reggie Evans are standing their ground and denying Randolph that coveted space. That needs to change if the Grizzlies want to have that inside-out look. The aforementioned Gasol-oriented sets are vital to the Grizzlies' success, but so is the Randolph-based stuff. Randolph might not demand a double-team right now, but he can't allow the Clippers' big men to establish position -- and confidence -- in his kitchen.
Feed the big dog
Speaking of the inside-out game, the Clippers have some issues of their own to address. Griffin needs more touches in the post, not just for his own productivity, but to get the Clippers' half-court offense humming. Griffin has superior speed and athleticism to anyone in the Memphis frontcourt corps, and he must get ample opportunity to exploit that advantage.
Force the Grizzlies to either play Griffin straight-up or send a double-team, out of which Griffin is a capable and willing passer. Much of the Clippers' perimeter game is predicated on Paul's penetration, but plenty of good looks materialize with Griffin leveraging the defense. That's when the ball starts moving in the Clippers' offense.
"This is the way our offense is set up," Randy Foye said. "It's about where the trap comes from. [Griffin] posts up on that left block. When he turns middle, they collapse, and put him in a situation where they make him pass the ball. I move over the weak side to try to get open, and he knows where to find me."
The turnover game
It's the immovable object and the irresistible force. The Clippers ranked second in the NBA in protecting the basketball (thank you, Chris Paul) while the Grizzlies led the league in forced turnovers (thank you, Mike Conley). In Game 1, the Clippers were out of character, coughing up the ball 18 times in 91 possessions. Memphis generated 20 points off those turnovers, a bounty that sustained them for much of the game. Memphis will need a similar output against a team that's far more efficient offensively. They also need to keep the Clippers off the offensive glass. Memphis has been no better than an average defensive rebounding team all season, but letting the Clippers collect nearly a third of their misses is, for all practical purposes, a turnover in its own right.