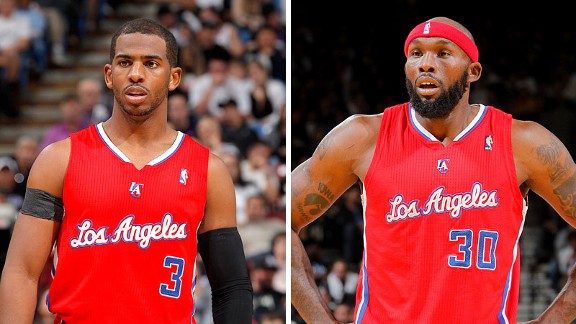 NBAE/Getty Images
Chris Paul and Reggie Evans brought the flop in Game 2.
HoopIdea wants to #StopTheFlop. To spotlight the biggest fakers, we present Flop of the Night. You can help us separate the pretenders from the defenders -- details below.
We're going to single out Chris Paul and Reggie Evans here, but really, today this is a team award. The crowd in Memphis quickly caught on to the Clippers' now notorious reputation for flopping. SI's Chris Mannix captured the mood by tweeting that the Clippers were "flopping all over the place."
Though there are other instances we could mention, let's focus on video of two hysterically unconvincing flops from Paul and Evans, who have each won this award previously.
What's so incredible about these flops is that they occurred on back-to-back plays. So just as the telecast cut back from a replay of Evans flopping to the ground after running into Marc Gasol, we saw Chris Paul on this fastbreak flop, crumpling to the ground in anticipation of contact as Quincy Pondexter completely avoids Paul and dishes to Tony Allen.
It should be noted that O.J. Mayo, who epitomized the Grizzlies' relentless and cagey effort in Game 2, seemed to respond to the Clippers' flopping tactics by flopping right back. By the end of the game, as the Clippers pressured the ball all over the court in a desperate attempt to create turnovers, Mayo and Mike Conley were giving as good as they got.
Thankfully, the referees let 'em play a bit inside the Grind House. There's no love lost between these two teams, and the combination of bruising play and frequent flopping makes the officials' jobs all the more difficult.
When you see an egregious flop that deserves proper recognition, send us a link to the video so we can consider it for Flop of the Night. Here's how to make your submission: