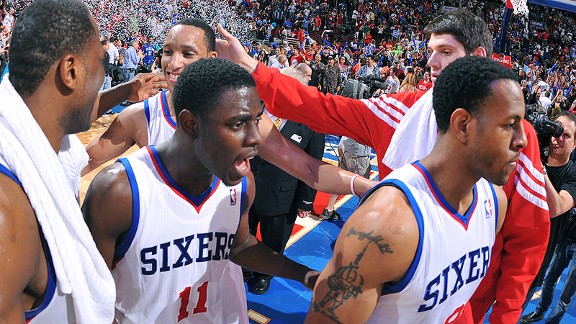 Jesse D. Garrabrant/NBAE via Getty Images
Jrue Holiday was at the center of a win that gave Philly a 3-1 series lead on top-seed Chicago.
PHILADELPHIA -- What's the thing that allows a player -- let's say a baby-faced 21-year-old with a tissue thin résumé who's languishing on the biggest stage of his young career -- to miss all but one of his first 14 shots and still take a 15th? What's the thing that lets him take eight more after that?
Courage. Gumption. Character. Resilience. Confidence. Poise.
Naïveté?
"Well, you've got some young guys who are, I shouldn't say too dumb but they're kind of too dumb to know [any better]," a bespectacled Andre Iguodala shrugged from the home locker room on Sunday, trying his best to make sense of the Philadelphia 76ers' 89-82 win and the player who did the most to deliver it.
We'll say this: If Jrue Holiday was dumb in Game 4, he was also very good.
The young guard whose uneven progress has mirrored his team's, shook off a nightmarish 1-for-14 start from the floor to hit six of his final nine shots and put Philadelphia a win away from becoming just the fifth 8-seed to topple a 1.
The soft-spoken Holiday, who, to an untrained eye seems a lot more self-aware than dumb, acknowledged that doubt crept in during his drought.
"Once you start missing shots, you start to think, 'Man, I shouldn't shoot anymore,'" Holiday admitted. "But they were giving me open shots."
And so, in accordance with Sixers coach Doug Collins' shoot-or-die edict -- "He's got a coach who's got no conscience when it comes to shooting," Collins joked from the postgame podium -- he took them.
And, finally, they started dropping. From 18-feet, then 5, off the glass, out of a screen; none, though, were bigger than the pair of 3-pointers he hit in the fourth quarter, bulwarking a Chicago surge.
After Taj Gibson connected on a jumper to narrow the Philadelphia lead to 74-73 with 4:33 remaining, Holiday, already rolling at that point, drilled a 27-footer to move Philly's advantage to 77-73. Then, after a Chicago turnover, Iguodala had an idea.
"Coach asked me what do you want to run," the captain said, "and Jrue had just made his first big 3 and I said, 'We have to get back to Jrue.' I could just see it in his eyes."
Holiday made his teammate look prescient. He hit a second consecutive deep 3-pointer that ignited the Wells Fargo Center and gave Philadelphia just enough cushion to withstand a few last-ditch charges from the scrappy Bulls.
But while Holiday's was a performance that was worth celebrating on its own merits -- it swung a playoff game -- it was maybe more so for what it portends.
The knock on the Sixers, and it's a loud and true one -- repeated to the point of cliché -- is that they lack a guy who can take over games. Philadelphia defends as well as anyone in the Association, makes hay in transition, but it has no shot-creator. Nobody who can get looks in the half-court heavy, glacial pace playoff basketball games invariably grind down to. Chicago's season effectively ended when they lost their guy who can create in such an environment. Philly's seems renewed now that they've found theirs.
After a regular season that saw him take a step backward in every offensive category, Holiday is averaging a hair less than 20 points on 45 percent shooting in this series against the depleted, but still defensively elite Bulls. It hasn't escaped his teammates' notice.
Elton Brand, whose gnarled toes give him a hard-won credibility (while giving journalists an incentive to hold eye-contact), said Holiday, if his rise isn't fools' gold, gives the Sixers the piece they've been missing.
"Amazing," gushed Brand. "That's his confidence, that's his growth. It takes a special young player to do that on the playoff level. He was frozen, frosty cold. And he stepped up and knocked those shots down."
If the Sixers' unlikely run is to continue, Brand said, they'll have to keep falling.
"If Jrue is open," he went on, "1-for-14 or not, he has to shoot that shot. We expect him to take it."
"We need him to take it."