Stephen Turanski is an upbeat New Jersey 14-year-old who does not have any hair.
He does not have hair because he has alopecia areata, but he does not just have alopecia areata -- he says he has a strain that is entirely untreatable.
He has had the stress-related condition for half his life, and it has not always been easy.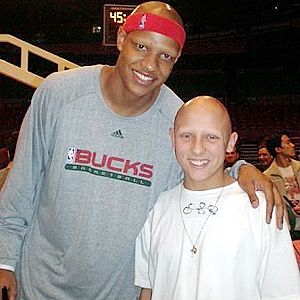 "In sixth grade, people would call me Avatar, after this comic character," he says. "And people have called me Mr. Clean. It got me angry. And it's stupid, because I don't even look like those people."
A little more than a week ago, Turanski was one of several children with alopecia areata who met with the Bucks' Charlie Villanueva, who also has the disease, in New York.
These kinds of events are promoted by the NBA all the time, and I never know quite how to handle them. Is this a meaningful thing, or is it mainly a PR stunt and a photo op? I think the truth is that some of these kinds of events are magical for all involved, and others are less so. It's hard to tell from afar.
But talking to Stephen, who is in the habit of seeing Villanueva around this time every year, I get the feeling this really is meaningful.
"I get nervous even if I just have to talk in front of a group," says Turanski. "But Charlie, he doesn't have any hair either. No eyebrows, no eyelashes, none of that stuff. And he just goes out there and plays in front of thousands of people. In front of millions of people even. And he doesn't care what people think."
"I don't know anyone with alopecia," he adds. "So that was pretty cool to see."
Elie Seckbach recently videotaped Villanueva as he met children with alopecia areata in Los Angeles. The response Villanueva gets seems genuine and fantastic.
Photo courtesy of Stephen Turanski.