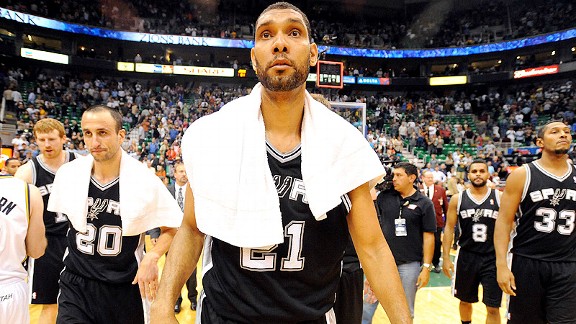 Steve Dykes/Getty Images
Following a sweep, Tim Duncan and the Spurs left Salt Lake City with bigger goals in mind.
SALT LAKE CITY -- Against a backdrop of unrelenting execution and impressive team play in a first-round playoff sweep by the San Antonio Spurs, the Utah Jazz reprised their entire season in 48 minutes.
A nervous start evened out into an exciting second act followed by an intermission featuring a blindfolded contortionist archer who shot arrows at a target using her feet. The third act was a familiar comedy of errors, but somehow the Jazz made an improbable run to pull within three points with 2:57 left in the third quarter -- and then didn't score again for the rest of the period in San Antonio's 87-81 Game 4 win.
Adding the drama of night, the Jazz dance team was absent for most of the game as punishment for performing to an unedited music track during Game 3. The empty floor during timeouts was a bizarre contrast to the usual overstimulation of the NBA arena experience.
Spurs star Manu Ginobili filled the empty stage, playing his classic role of the Argentine Asesino. A dramatic foul drawn here and back-to-back 3-pointers there, and that three-point lead turned to 10 going into the fourth quarter, sending many in the late-arriving crowd heading for the exits.
The fourth act was certainly the only part of the series that caught the attention of the Spurs. Down 21 points, it looked like the Jazz were ready to roll over and quit. Said Spurs coach Gregg Popovich: "The Utah Jazz showed you the kind of class and the kind of organization they are. Down 3-0 and I think we were up 17 or 18 and some people probably thought it was over, we put in a couple of subs and they just ran it right to us and stuck it to us, because they don't quit. They are just a class team and class organization. [Jazz coach Ty Corbin] has done a great job of keeping that going. It is just who they are and they showed it tonight. I just have to congratulate them on that."
There was no need for the Jazz to return the compliment -- they spent the week famously congratulating the Spurs for being a better team. Afterward, Jazz guard Devin Harris was forced to offer more of the same: "The Spurs are a very good team. We're a very young team. But any experience in the playoffs for our young guys is a good thing. You can't really replace playoff experience. It's a great thing to go through. [We] definitely learned some things from a team like the Spurs: the way they play together, the way they stay poised in the fourth quarter, how they really execute. They've won four championships for a reason."
The stat lines told the story of the season. Jazz center Al Jefferson was supremely Jeffersonian with 26 points and only one free throw attempted. It missed. Paul Millsap worked hard for his 19 rebounds but scored only 10 points. A long 3-pointer that would have sent the arena into pandemonium bounced out and a chance to pull within one possession in the final seconds turned into a lost ball and a Ginobili layup to ice the game.
Harris observed the uneven performance by the Jazz this season: "I thought we started out really well. Then we had a little letdown toward the middle of the season, but we made up our minds that we wanted to make the playoffs. That's where that big push came from late in the season. We had a lot of key guys hurt during that run. Our young guys really stepped up to the plate and played with experience and poise. We have a lot to look forward to with those young guys and this team."
For Jazz fans, the season ends with a good look at young Derrick Favors (16 points, 10 rebounds, 37 minutes), the young big man who should be the face of the franchise going forward. Fellow second-year rising star Gordon Hayward (0 points, 0-for-7 shooting in 25 minutes) struggled in his last two games, going 1-for-18 from the end of Game 2 to the end of the series.
Popovich himself was impressed with his point guard, Tony Parker: "This is his best year since he's been here; he's had some good ones. He was the MVP of the [NBA] Finals one year and he's playing better now then he did then, because he's playing an all-around game. He's guarding, he's involving other people, he still scores, and he's been a good leader. He's been very demanding of his teammates and very focused and serious since he came back this year from the Olympic qualifications this past summer."
What was predicted by many to be a swan song of a season instead looks like it will have a marquee-worthy team that will playing on a big stage for the next couple months.