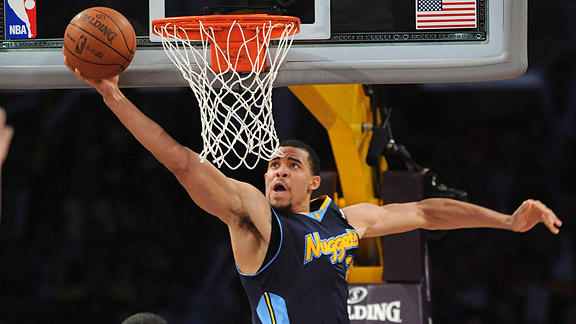 Noah Graham/NBAE/Getty Images
The JaVale McGee show did not end with the final buzzer.
JaVale McGee and the power of suggestion
It was undeniably the most important game of JaVale McGee's young career, and among his very finest performances. 21 points on 12 shots, many of which were jaw-dropping rim attacks. 14 rebounds. Two blocks, both in the fourth quarter ... including sending back a Pau Gasol dunk with less than two minutes left. As McGee stood on the court, post-game, doing a hero's interview with TNT's Craig Sager, Sager noted that McGee was rightly holding the game ball. As the conversation wound up, Sager advised McGee -- a wonderful player with a reputation as a kook -- to hang onto that ball. The camera lingered on McGee as he thanked Sager and made his way along the edge of the largely empty post-game Staples Center stands and into the tunnel. The last thing McGee did before disappearing from view? He heaved that game ball, baseball-style, into the great beyond of the arena.
Good thing Sager didn't say "hang onto those shorts."
The Celtics, Heat and reputations
In a great article about the prowess of Rajon Rondo, it was pointed out that the Celtics are incredibly efficient in crunch time, especially as compared to the Heat.
I cringed as I read it.
The Celtics have created a huge bundle of great late-game plays, and run some of the league's most beautiful sets. But our eyes deceive us on these things all the time, and though people hate to hear it, the numbers almost never support the persistent idea that the Heat are terrible at much of anything.
Sure enough, as it happened the Celtics closed a game last night with some of the poorest execution imaginable.
Which, it turns out, is not as out of character as you might think. NBA.com's new stats site, tells us, essentially that the Heat crush the Celtics by every relevant measure late in games. In games either team was tied or trailing closely with 3 minutes left, the Celtics finished this season with a 5-11 record, which is not good by any measure, even compared to the Heat, who were 9-8. The Heat had the league's fifth most efficient offense, with the second-best true shooting percentage late in those games. The Celtics, meanwhile, had the 26th most efficient offense, with the 27th best true shooting percentage.
And as it happened, with the game on the line against the Hawks, Boston's big opportunity ended with the opposite of efficient execution. Rondo went on a dribble-odyssey to nowhere, capped by a too-late desperation pass that was tipped and sailed out of bounds at the final horn.
None of that proves anything, other than that every team, even the veteran Celtics, has miscues late. So why do the Heat seem to have no clue? Just maybe people make a bit bigger of a fuss out of the Heat's flaws, not because they are more common, but because they fit a certain narrative.
Kobe Bryant and hotness
Speaking of certain narratives, Kobe Bryant hit four straight late 3s to turn a blowout into a squeaker, which had the broadcasters and everybody else saying the words "on fire" again and again. And four 3s ... that is a "wow" moment. I wonder how many players have ever done that, let alone late in a close playoff game.
But we also see what we want. Nobody, for instance, described JaVale McGee or Andre Miller as "on fire" in this game, because they take easier shots, I guess, and because that's not what we expect from them.
The truth, however, is that Miller and McGee finished the period a game-changing, scorching eight of 11 from the floor in the fourth quarter. Bryant's fourth included that stretch of four big makes, but in keeping with the bigger odds -- he's a pretty average 3-point shooter, and nobody is very good shooting with hands in their faces -- he ended the game with three straight misses. His final fourth quarter tally was five makes, seven misses, and still, somehow, a monopoly on claims of a hot hand.
Pick one: Andre Miller or Ty Lawson
The Nuggets have a problem. Arguably their best player is Ty Lawson. But so many of their other good players, especially the freakish athletes -- McGee, Kenneth Faried, Corey Brewer -- get so much out of playing with Andre "lob" Miller. There is simply no way McGee could have had his great Game 5 without Miller looking for him. George Karl has been playing Lawson and Miller late in games, but that seems to be more of a concession to the team's pecking order -- both "deserve" to play -- rather than the best possible lineup. Without the ball, neither is terribly useful. On late defensive possessions, although it happens Miller was guarding Bryant for his key late miss, it's a cinch to make the case that either or both should sit for defensive standouts Arron Afflalo or Brewer. Not to mention the magnificent Faried sat for the entire final period.
Short rotations
In the playoffs coaches shorten their benches. Play your best players. And for all I know it's right. But watching players like Andrew Bynum and Spencer Hawes, it's undeniable to me that fatigue plays a role in the playoffs. You sure you don't want Jordan Hill in there a bit more? Is it a lock that Nikola Vucevic would be of no use?
There are spells of the game when it seems anyone who had had a cup of coffee in the last 24 hours would do better than those exhausted players -- players who are blatantly excellent when not so tired.
And then consider players like the Bulls' Ronnie Brewer, who played 13, 13 and zero minutes in the first three games of the playoffs. A year ago, he got consideration as an all-NBA defender. But he was the odd man out as the Bulls shortened the rotation for the playoffs. In Game 5 he finally got some meaningful time, 29 minutes, and was blatantly fantastic, bringing precisely the kind of high-energy toughness the Bulls have been lacking since injuries to Derrick Rose and Joakim Noah.
And as it happens, Brewer's in a crew of three Bulls bench players, along with Taj Gibson and Kyle Korver, who are the only Bulls with positive plus/minus numbers in the playoffs. Even on the most injured playoff team, all three have seen their minutes drop compared to the regular season.
Statistical support provided by NBA.com.