Bobcat assistant coach Phil Ford was out on the court this morning, running the Bobcats through a drill where they put on a dribble move past him and then pull up for a mid-range jumpshot. (NBA assistant coaches are forever drilling the mid-range jumpshot, but so few players take it.)
As Jeff McInnis approached, Ford hunkered down in his defensive stance, stared McInnis in the face and snarled "I'm going to pick you!"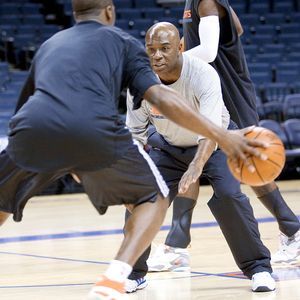 McInnis sailed past, Ford took a swipe, and McInnis drained the jumper. Next.
There was something funny about the play, though. Ford's swiping hand was adorned with a rather expensive-looking watch. That's a big no no in my pickup game. Accessories on the court can catch flesh, which can be bad for flesh, accessories, and moods. (Apparently my knuckly has grown through the years, and I can only remove my wedding ring on ice cold days. So I play in it, and even that little accessory annoys some players. A big metal watch? Forget it.)
Just as I was staring at the watch, Coach Ford realized the same thing, and slipped it into his pocket. One less thing for me to worry about.
Raymond Felton came in next and made his move. Another swipe. Another miss. Another chance for an assistant coach to razz a player: "I got a hand on that ball!" he barked.
However, I had been watching, and I can tell you that Phil Ford did not get a hand on that ball.
Later I asked him if he was really even trying to make the steal.
"Naw," he replied. "That's just talking trash."
(Photo: Jonathan Stotts for ESPN.com)