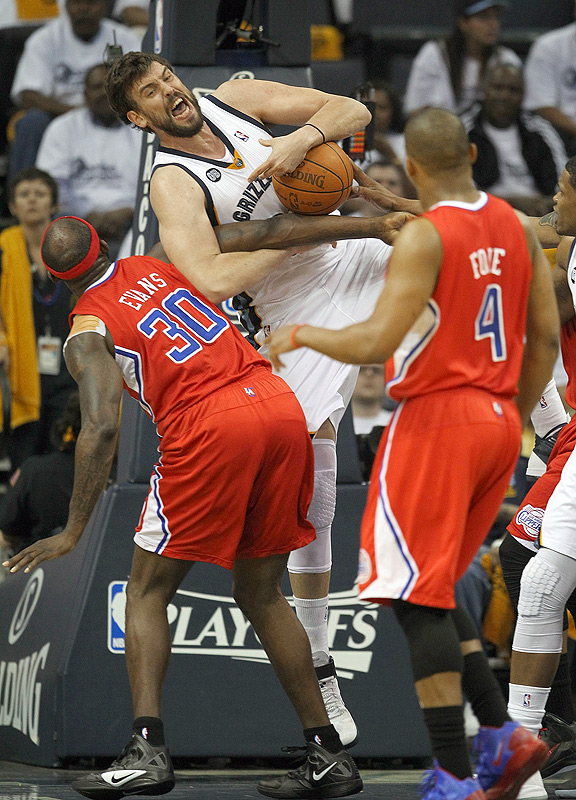 Andy Lyons/NBAE/Getty Images
Marc Gasol and Reggie Evans have been tangled up all series.
HoopIdea wants to #StopTheFlop. To spotlight the biggest fakers, we present Flop of the Night. You can help us separate the pretenders from the defenders -- details below:
Marc Gasol and Reggie Evans have spent five games battling for paint supremacy. Tuesday they also battled for Flop of the Night by participating in a tremendous double-flop.
Let's get right to breaking down the flop footage (video), because there's a lot happening here.
As Evans comes to set a screen for Chris Paul, Gasol is already using two hands to push Evans away from where Paul wants the screen to be set. In response, Evans grabs a hold of Gasol's hand, in an apparent effort to show the ref that Gasol is fouling him -- which he is.
Evans then decides less subtle methods are necessary.
With Gasol draped across his shoulder, Evans violently raises his arms up to tell the referee "Hey! This guy is all over me!"
However when Evans raises his arms, he gives Gasol a chance to flop backwards on what looks like an elbow to the chest.
In a way, it's beautiful. Gasol fouls Evans, which isn't called. Evans works up some drama to call attention to the foul. Evans' drama, in turn, triggers' Gasol's flopping impulse, which earns the much sought-after call.
Both men flopped to the best of their ability, but to the victor goes the call, and our Flop of the Night.
Bonus flop: The theatrical exchange harkens back to this Hall of Fame double-flop between Manu Ginobili and Raja Bell, in which Bell flops so hard he accidentally "trips" Ginobili who is already mid-flop when Bell's foot touches him.
When you see an egregious flop that deserves proper recognition, send us a link to the video so we can consider it for Flop of the Night. Here's how to make your submission: